Note: If you are interested in this retreat, please email Cat.  Once we schedule it we shal let you know the dates and give you the opportunity to register. We have been incubating this … More
Posted in Archive, Cat and Pecos, Workshops & Events

In 2020 we'll lead our third Magical Scottish Sojourn to Aberdeen, the Isle of Skye, and the Shetland Islands. Make yourself a nice cuppa tea as you sit down to read through our
*
…
More
Posted in Archive, Cat and Pecos, Workshops & Events

Posted in Archive, Workshops & Events

Join us as springtime blossoms on the island, with daffodils, flowering fruit trees, lambs, green leaves growing more visible day by day, and a feeling of freshness and new beginnings. I'll announce the knitting … More
Posted in Archive, Workshops & Events

Full details: *2020 LTRCY*
This is the first year I am opening this special retreat to the public. Each February for the past four years, a group of beloved knitters and … More
Posted in Archive, Workshops & Events

Counting the days until we are in our beloved Iceland once more, hopefully with you!
Knitting and cooking classes, soaking in geothermal bliss, meeting Icelandic knitters, fantastic food, seeing the magnificent landscape, and feeling … More
Posted in Archive, Cat and Pecos, Workshops & Events

A decade ago I designed my Wherewithall Vest. When I wore it to my island knitting retreats, my students begged for the pattern, and so about a year ago I began to develop just … More
Posted in Archive, Workshops & Events
Posted February 6, 2016
Last spring our Icelandic friend Valdi convinced my brother Pecos and me that winter is the best time to go to Iceland. And like fools, we believed him, thank goodness, because he turned out to be wonderfully right.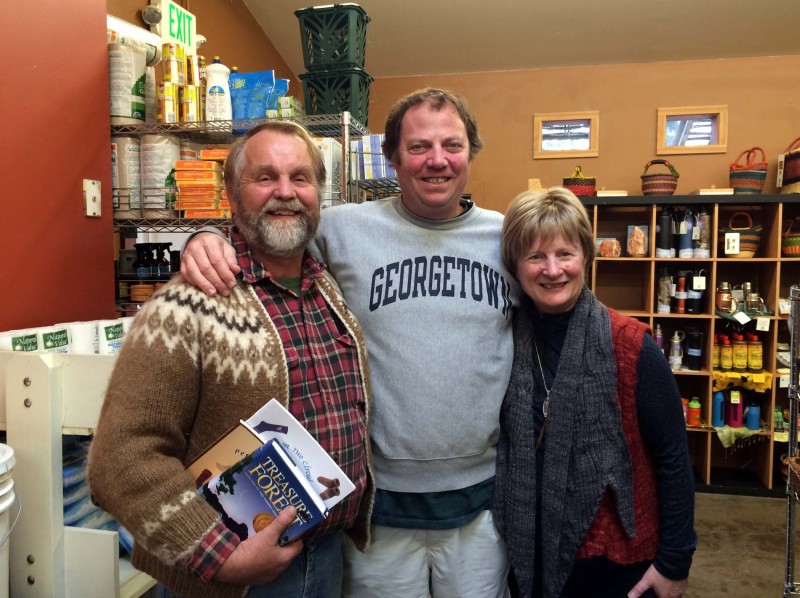 Valdi is wearing the lopapeysa his aunt knit thirty years ago. Except for the eight years his cat claimed it as her nest, he's worn it nearly daily. After she died, he washed it, patched the elbows, and resumed the warm relationship, full of cat memories. Icelandic wool is the real thing.
Valdi introduced us to his relative, Hulda Soffia, a knit designer and primary school teacher in Reykjavik with a degree in textiles. Hulda helped us plan a community-based knitting adventure like those we lead in Peru, Ireland, and the United States. We finally met our lovely long-distance friend in person the week before our travelers arrived,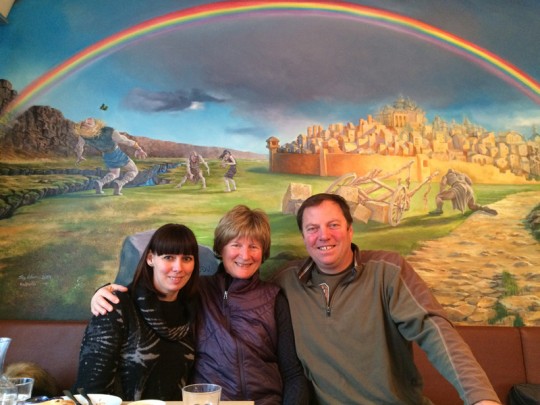 and she helped us get all our ducks (and swans) in a row, so to speak.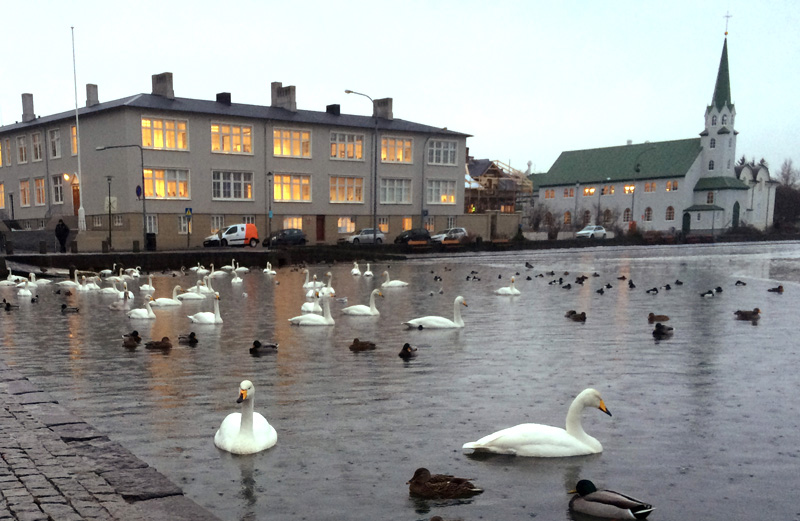 Reykjavik is at once grand and intimate, labyrinthine yet easy to navigate, each home uniquely charming, the window sills displaying carefully curated personal collections and hand-crocheted lace curtains, offering glimpses of the worlds within.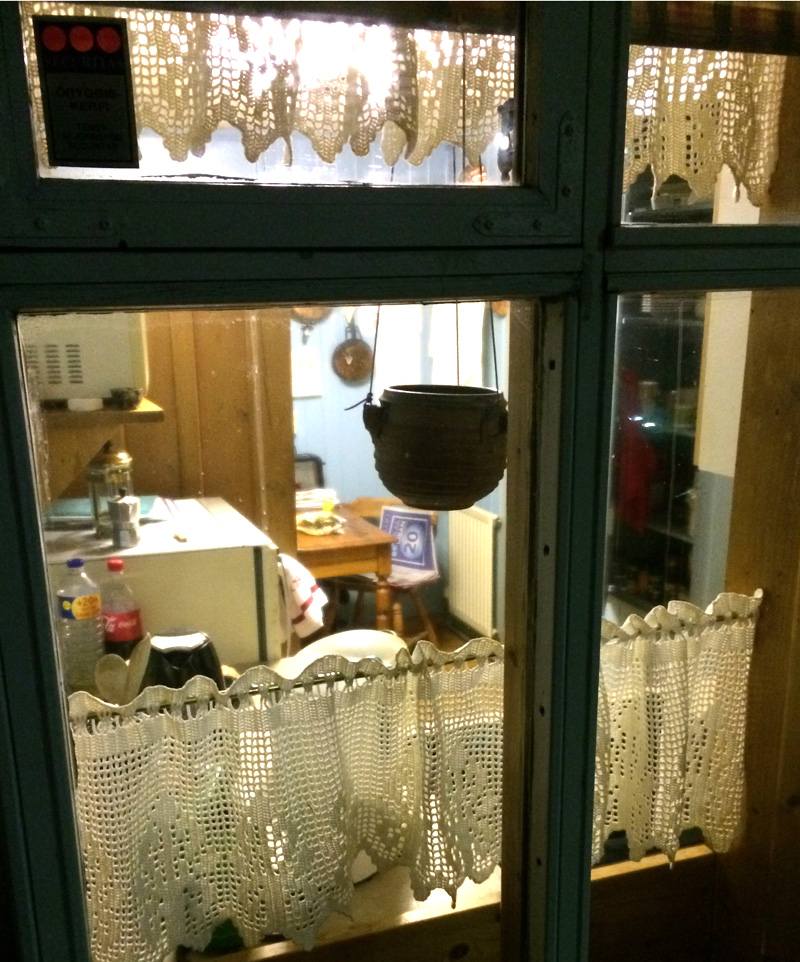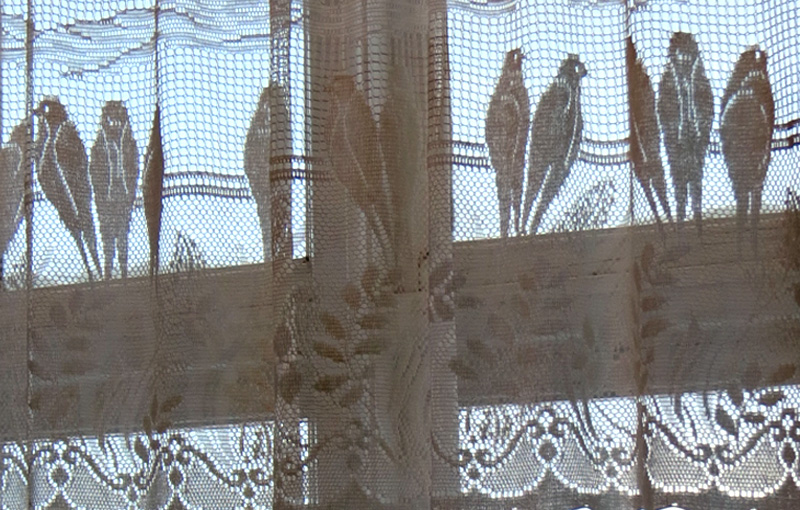 photo by Phil Iverson
We chose a hotel at the top of the highest hill, where Hallgrimskirkja's pristine architecture soars above the entire city, so our travelers could always find their way home. This is the view from the top of Hallgrimskirkja's tower. Pecos took this photo on a sunny day just as a snowstorm began to blow in on the right.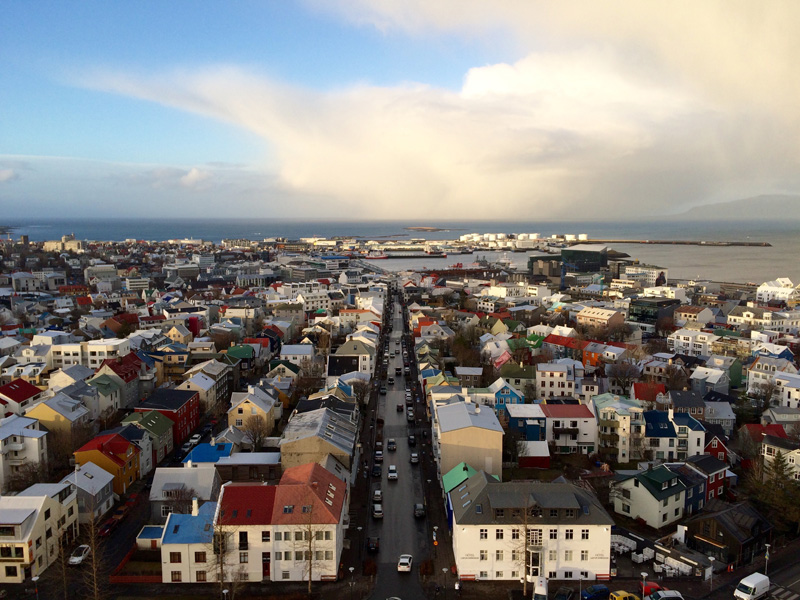 photo by Jim Petkiewicz
Dawn at the end of January begins its slow, delicious transformation at about nine,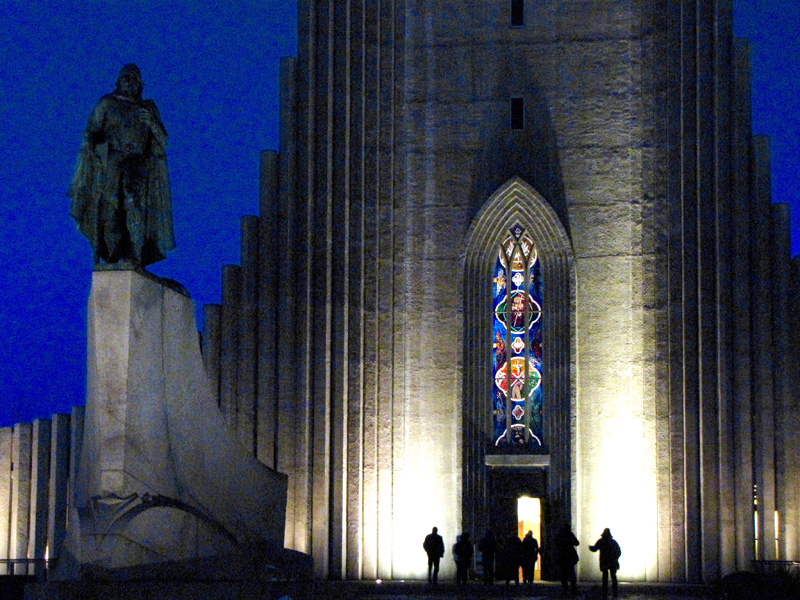 photo by Jim Petkiewicz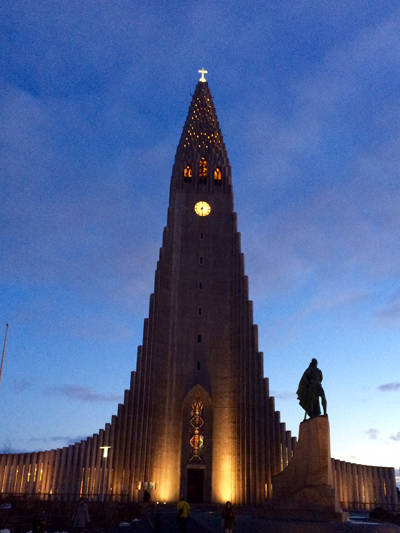 photo by Jim Petkiewicz
and sometime before ten one realizes it is daylight.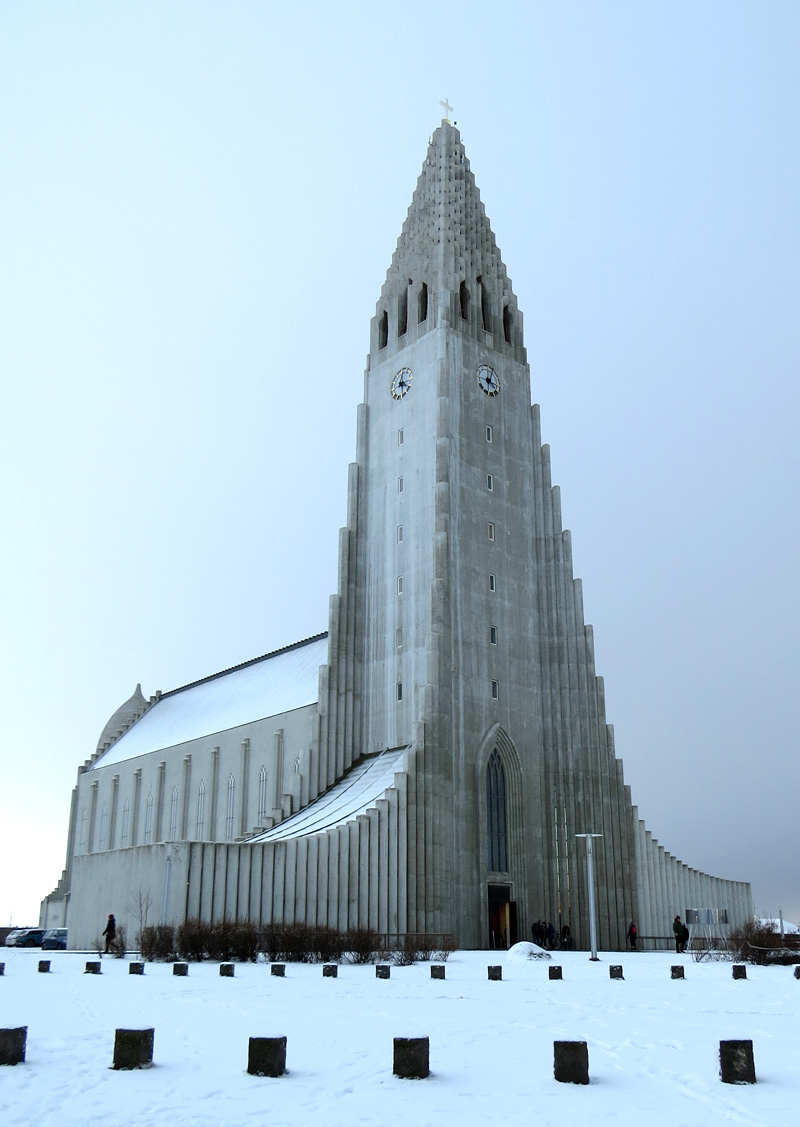 photo by Phil Iverson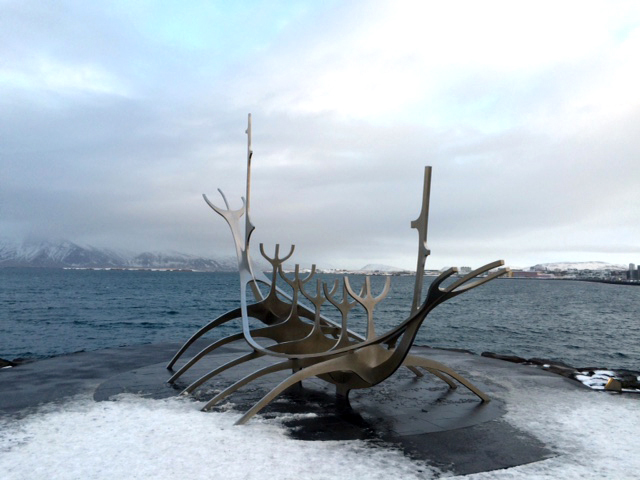 photo by Jim Petkiewicz
Around five the light becomes drowsy and by six darkness enfolds the sparkling world again.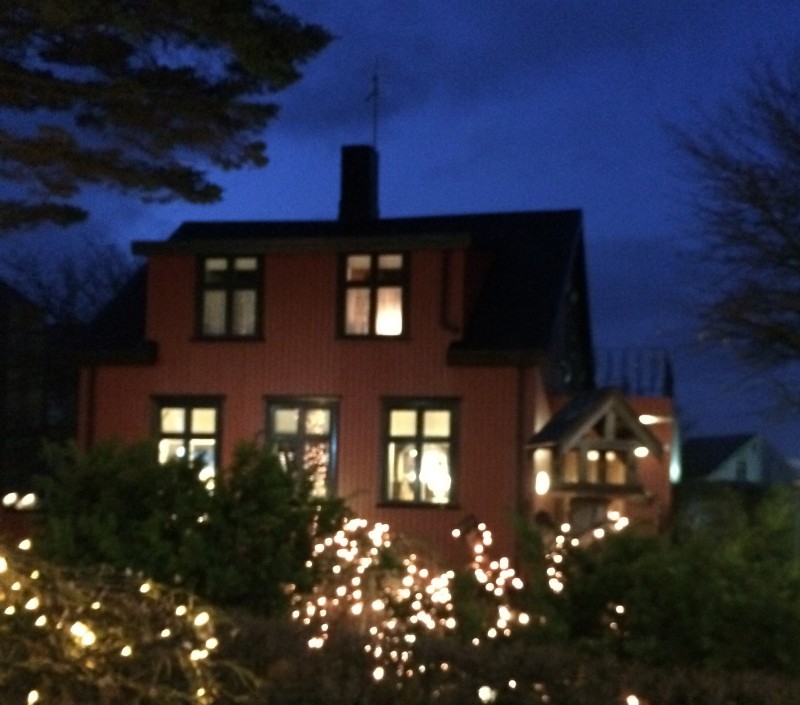 Darkness embraces daylight like a circle of petals sheltering the unfurling tenderness at a rose's center, making each day's transformation serene. Icelanders wind delicate white lights around bare branches and arrange luminous treasures in windows, so that taking a walk during the so-called darkness is magical. I loved dark and light equally.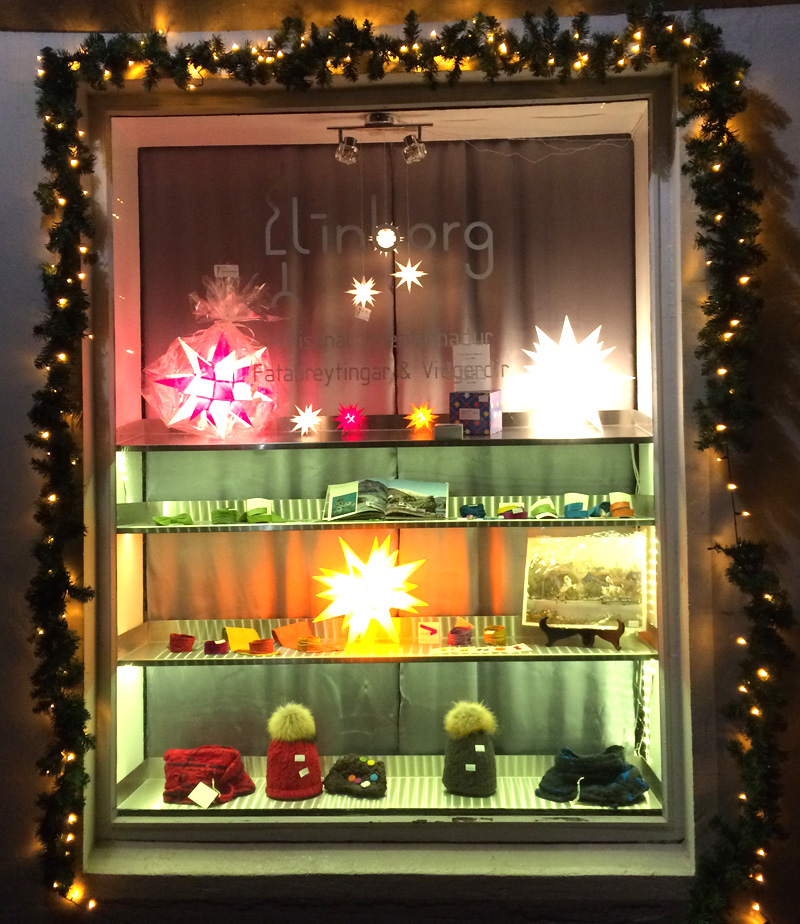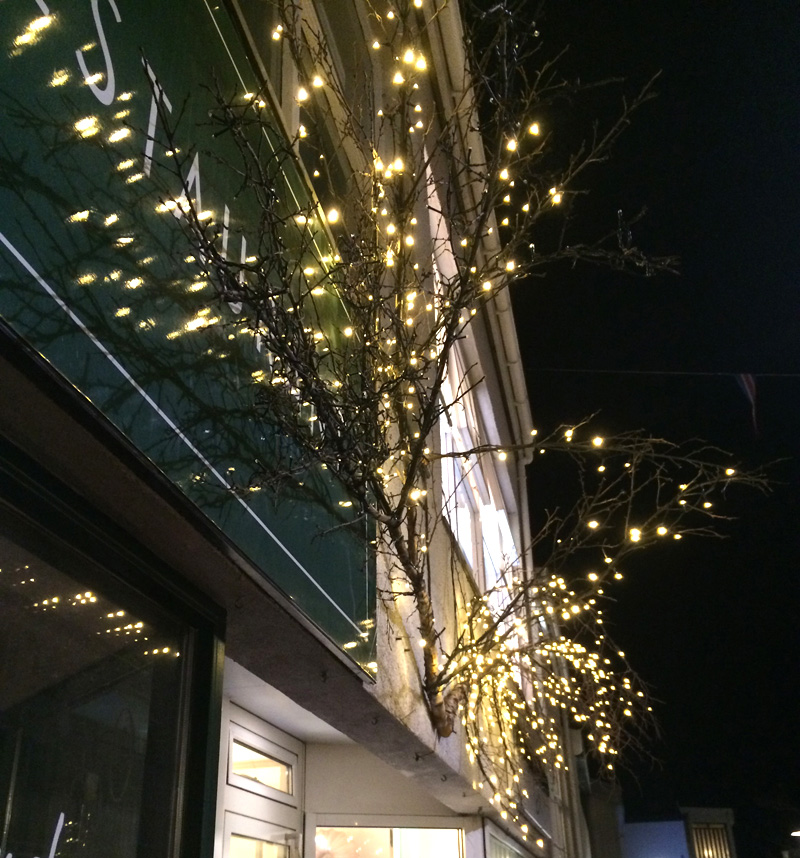 Icelanders drop mittens a lot, it seems, and so it is customary to pick up forlorn lost mittens and set them somewhere at eye level. This gate's display changed daily as some mittens returned home and newly lost ones arrived.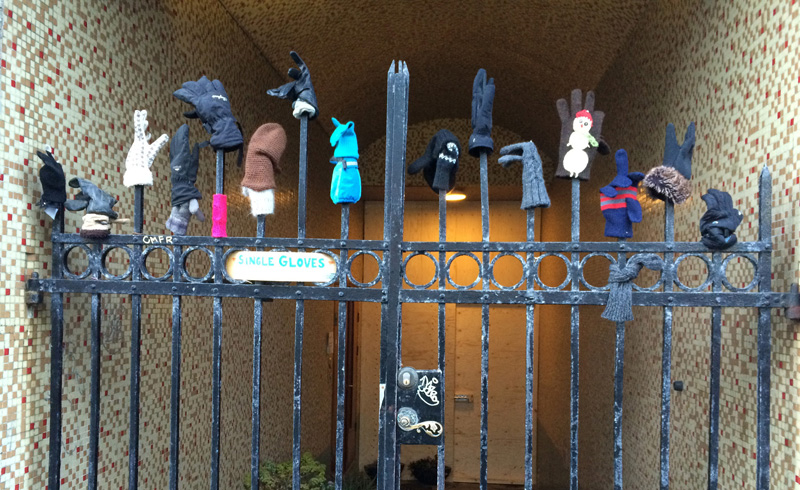 Many of our travelers found handknit Icelandic sweaters, tunics, and more in the Reykjavik thrift shops. Here is a rack of pre-loved children's handknit sweaters.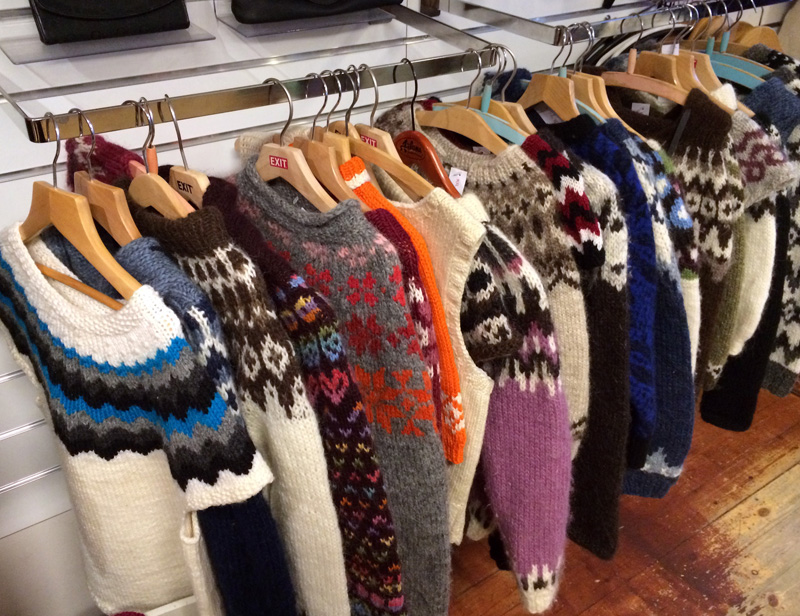 These thrift store slippers (which I photographed but for some unknown reason did not buy!) inspired me to design my own version (and pattern), which I will post when they are done.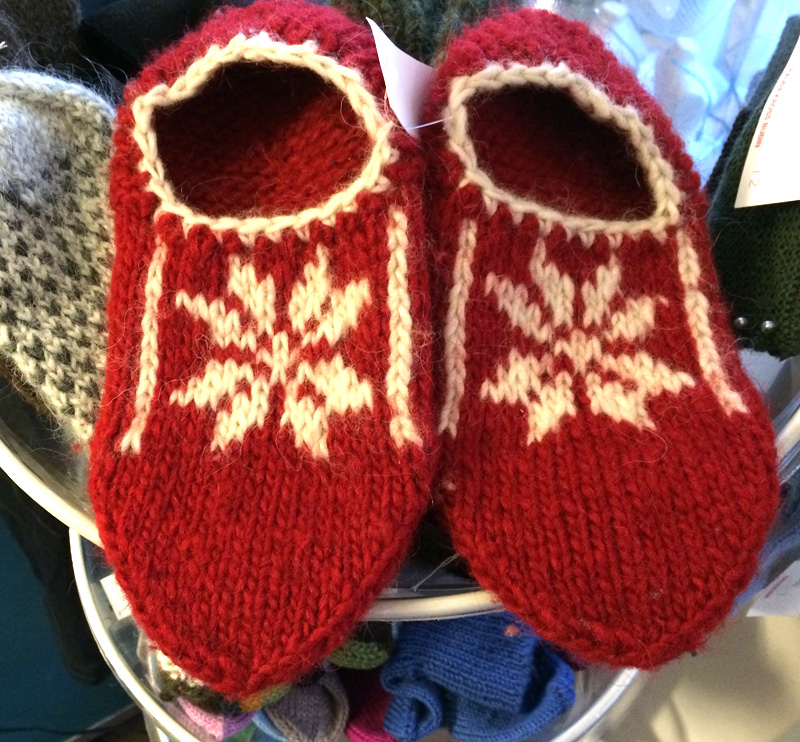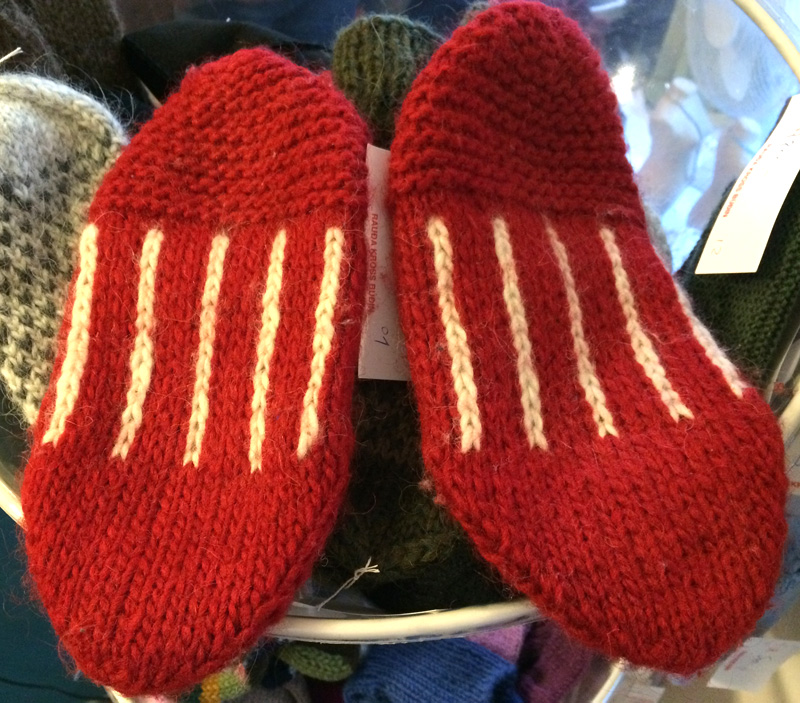 I did buy these elegantly patterened mittens in the same shop and found them to be much warmer non-Icelandic wool mittens twice as thick. That good Icelandic wool…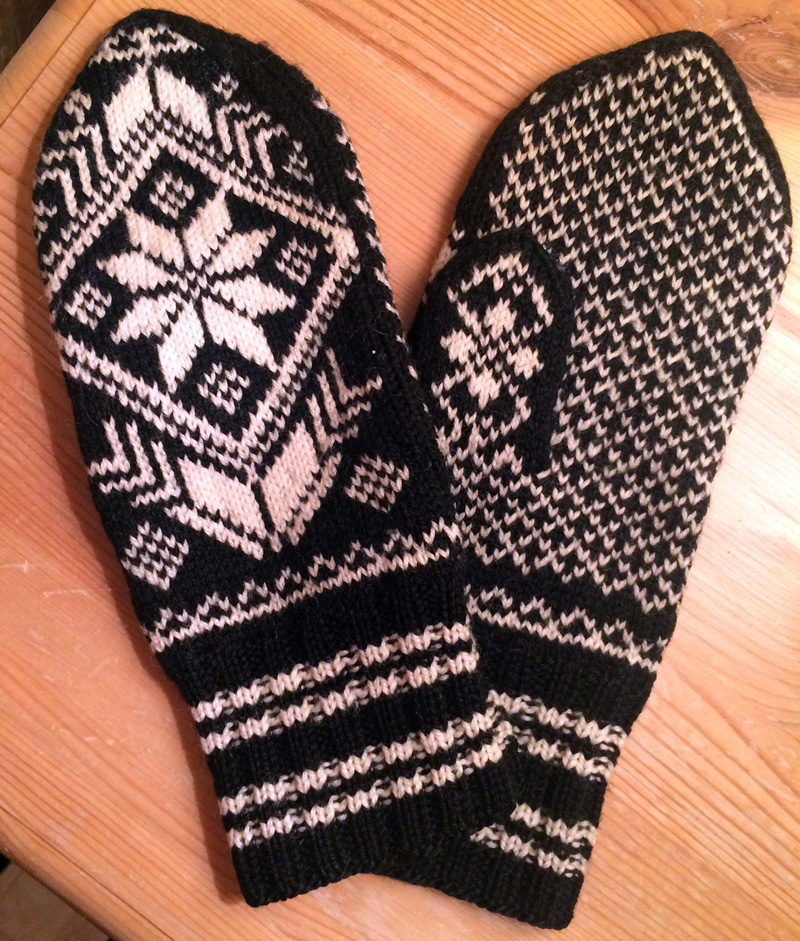 The next day I found another pair of slightly fulled woolen mittens which were made by the ancient technique of nalbinding, which predates knitting. Such a find was so unlikely that I didn't realize what I had until our travelers Sara and Phil Iverson, who own Blue Heron Knittery in Decorah, Iowa, and whose neighbor and friend Kate Martinson is one of the world's experts on nalbinding, confirmed the rarity of my treasure.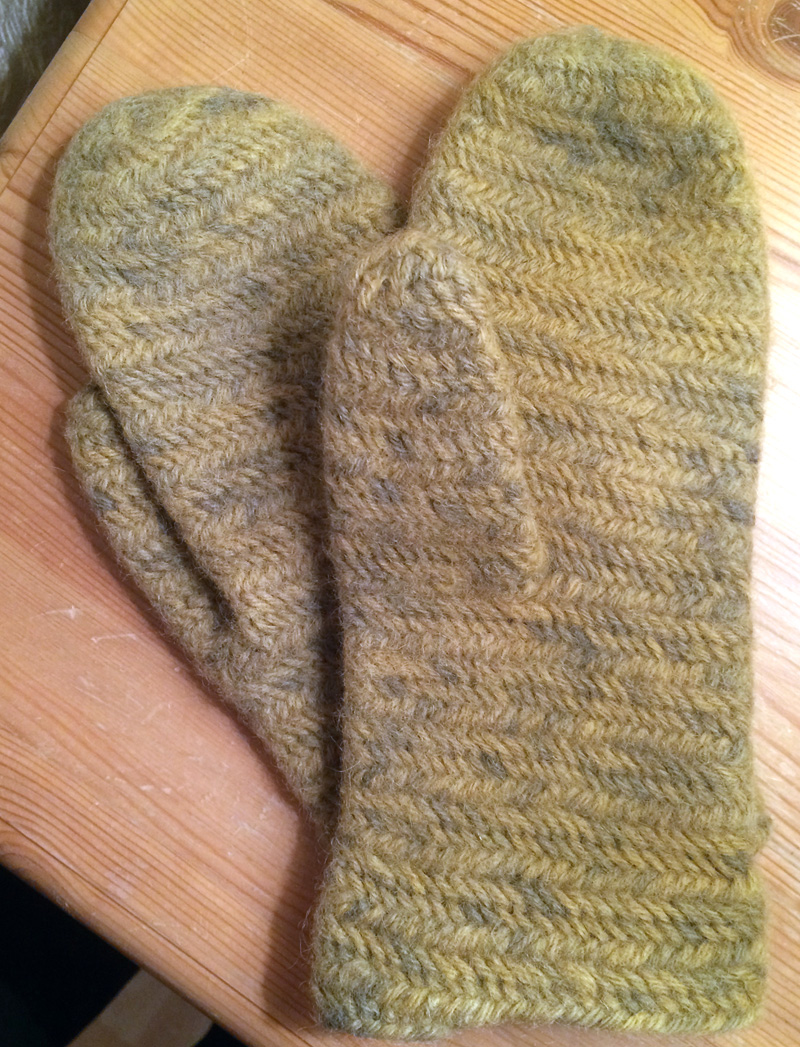 Traditional knit designs appear everywhere in this knit-centric culture, where every child learns to knit in grade school. There is no such thing as a person who doesn't understand and value knitting. Here is a stained glass window with a knitting pattern,

and a bridge railing with a yoke design.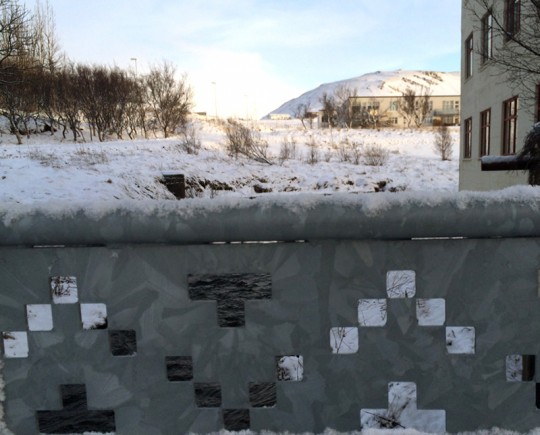 Everyone from active construction workers to babies, wears sweaters, for they are beautiful and durable.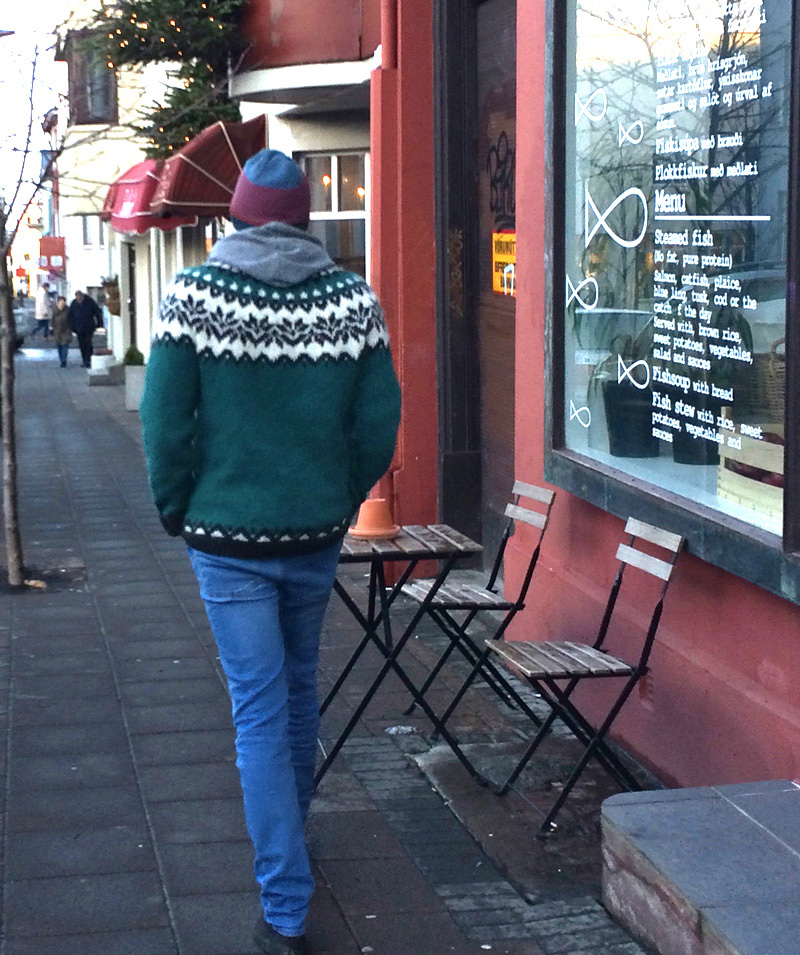 Every morning we gathered in our hotel's breakfast room for knitting workshop, where I taught my unpublished Icelandic yoke sock architecture. The method invites variation, so in addition to socks, several chose to knit legwarmers, and one made an Icelandic Christmas stocking.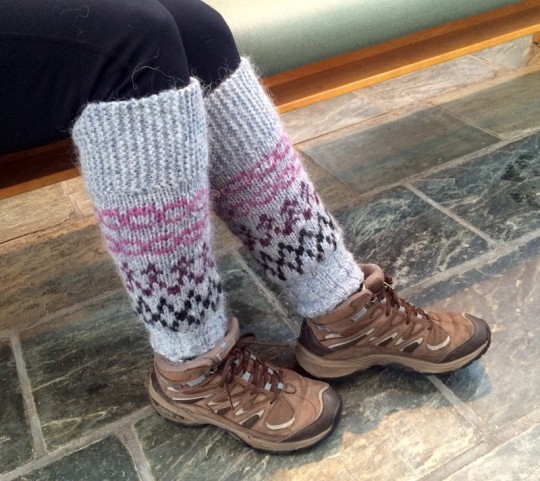 Icelandic food is beautifully presented and satisfying.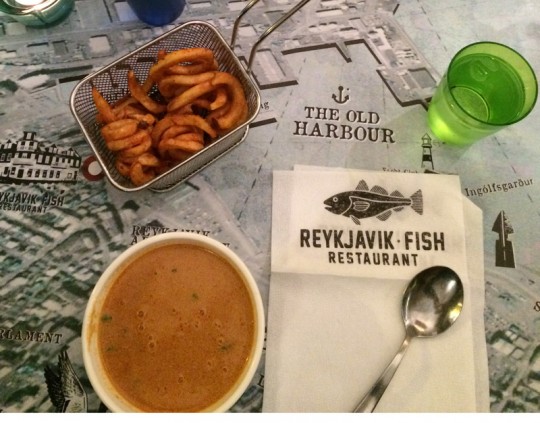 The freshest fish, succulent lamb (rivaling El Albergue in Ollantaytambo, Peru), soups, stews, open-face sandwiches, even rye bread ice cream (hidden beneath the whipped cream)!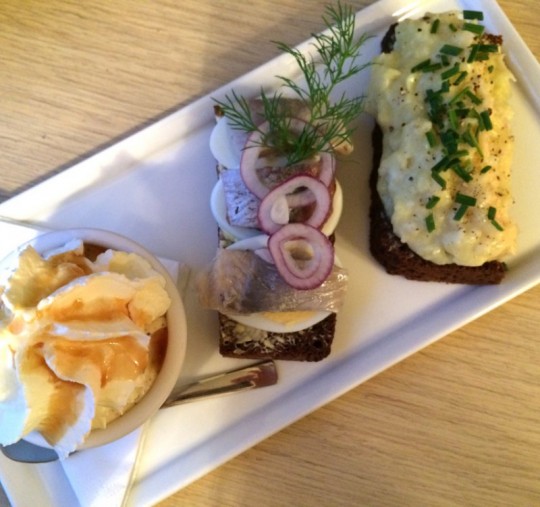 Tucked here and there are tiny food shops that beckon you to enter their enchanted world,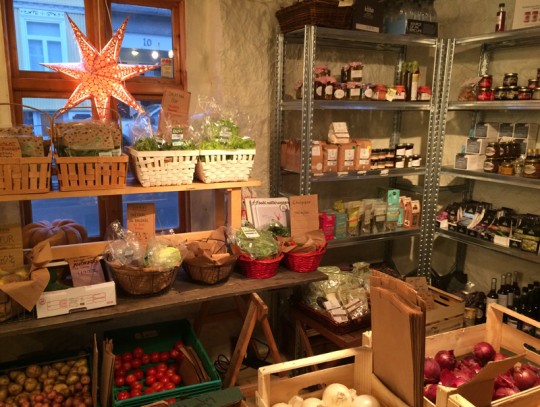 that includes flowers…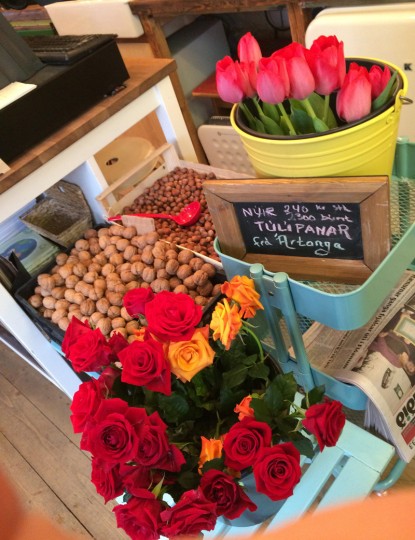 Licorice (lakris) rules the candy counter (imagine licorice coated in good chocolate!) as well as gourmet shelves.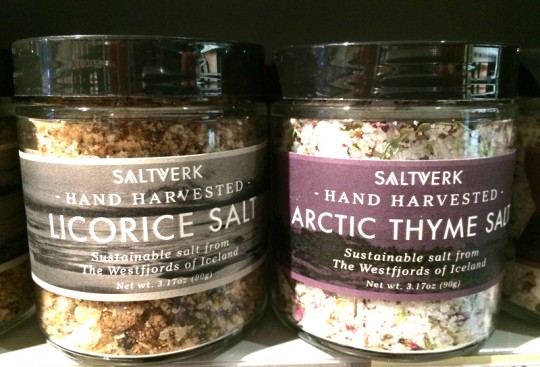 Abundant, well-fed cats roam Reykjavik's streets and gardens. Since all dogs are leashed, the cats know they are free to explore, and do. Here is a friend I made on the way to the geothermal pool and hot pots a few minutes' walk from our hotel.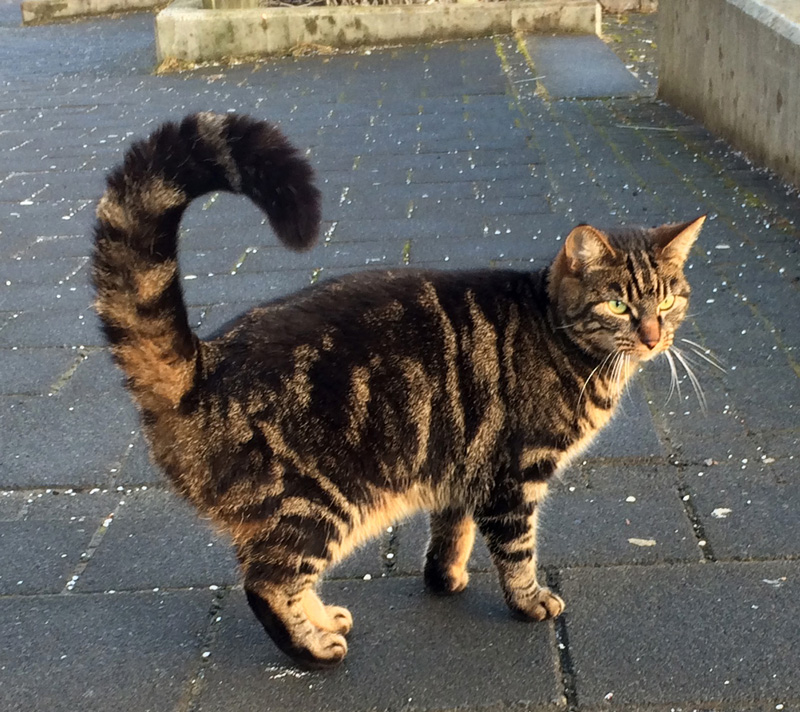 Cats slip in and out of windows, which tend to be left open because of the plentiful geothermal heat,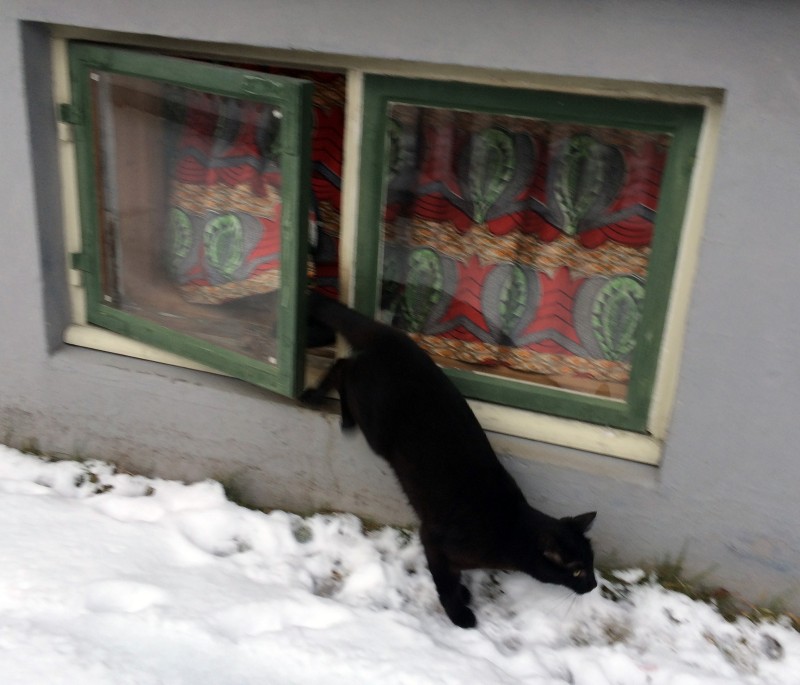 wait for shops doors to open so they can pitter-patter inside,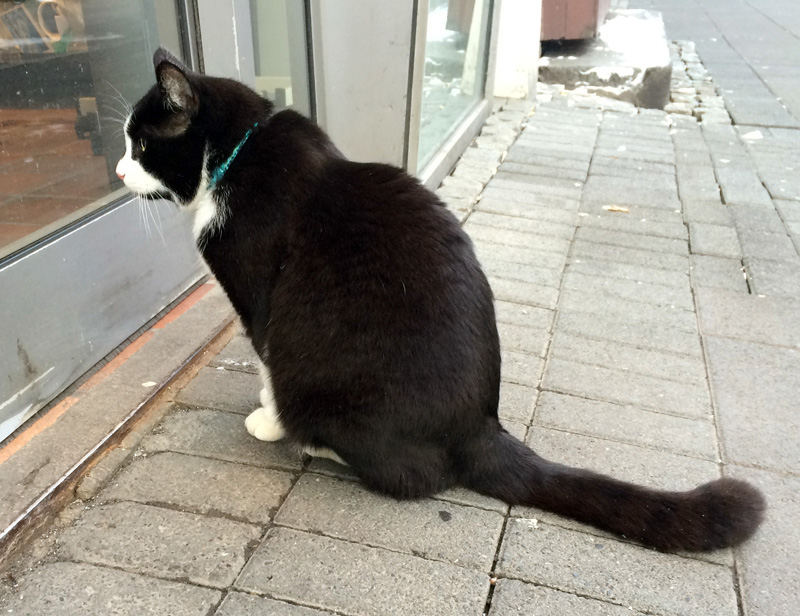 and cuddle in a passersby's warm arms (that would be me),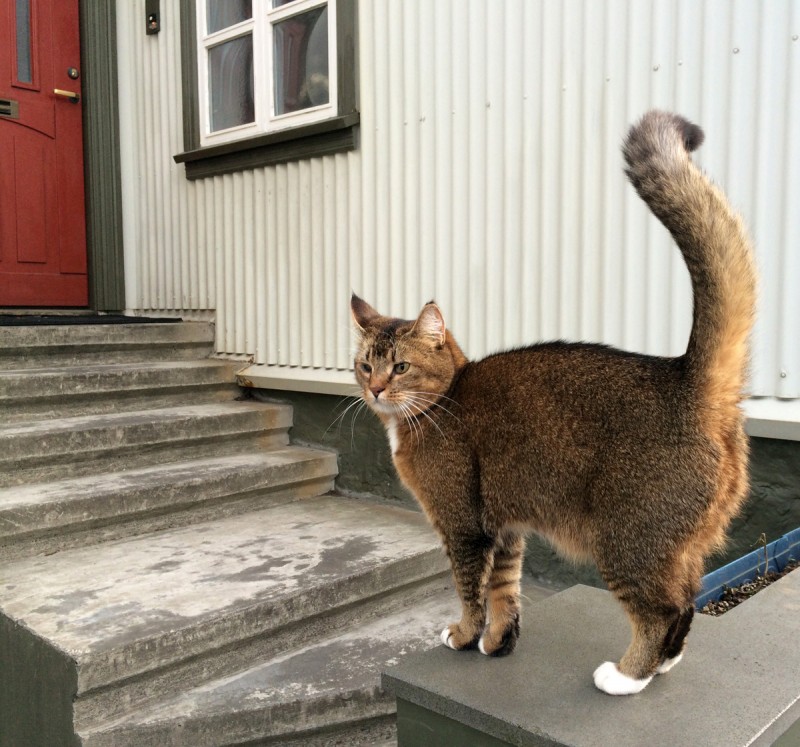 Or wait by the door.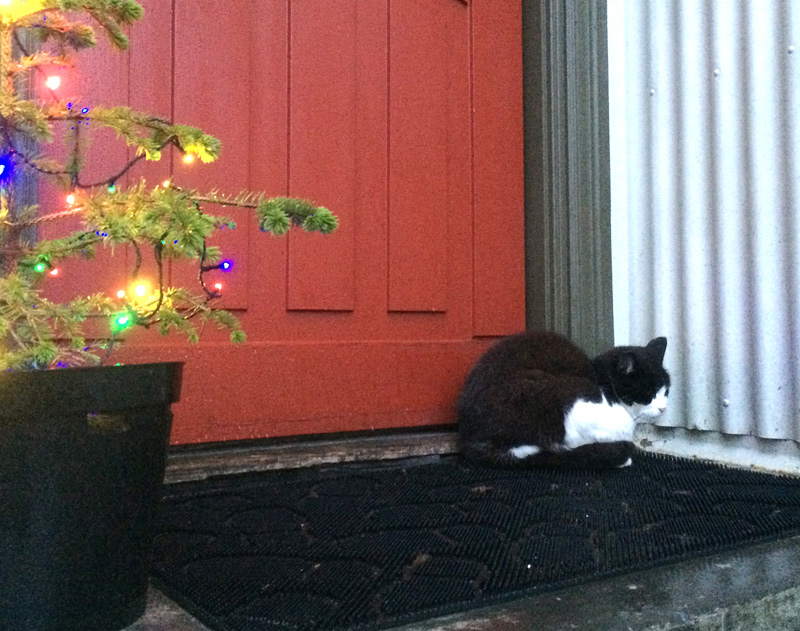 One morning Hulda Hákonardóttir gave us a tour of the Istex Mill where all Lopi and Alafoss yarns are born, from bales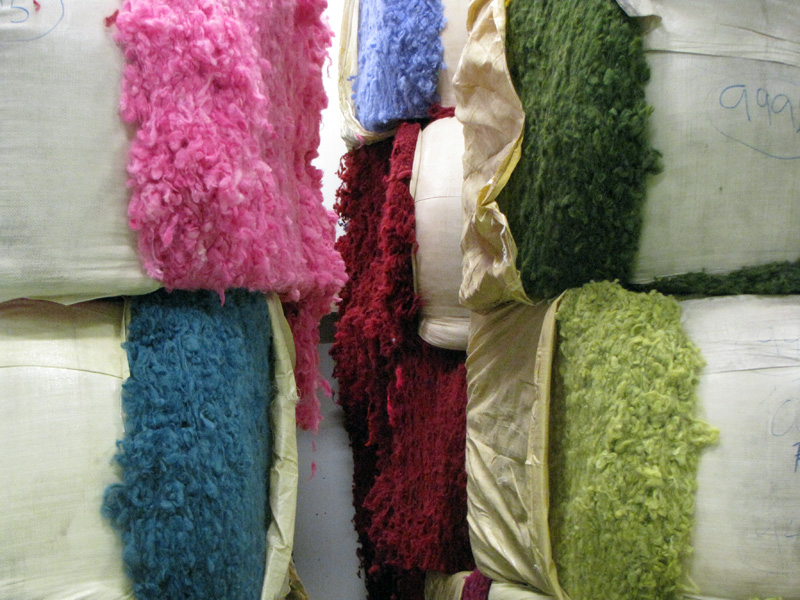 photo by Jim Petkiewicz
to broad swaths of batting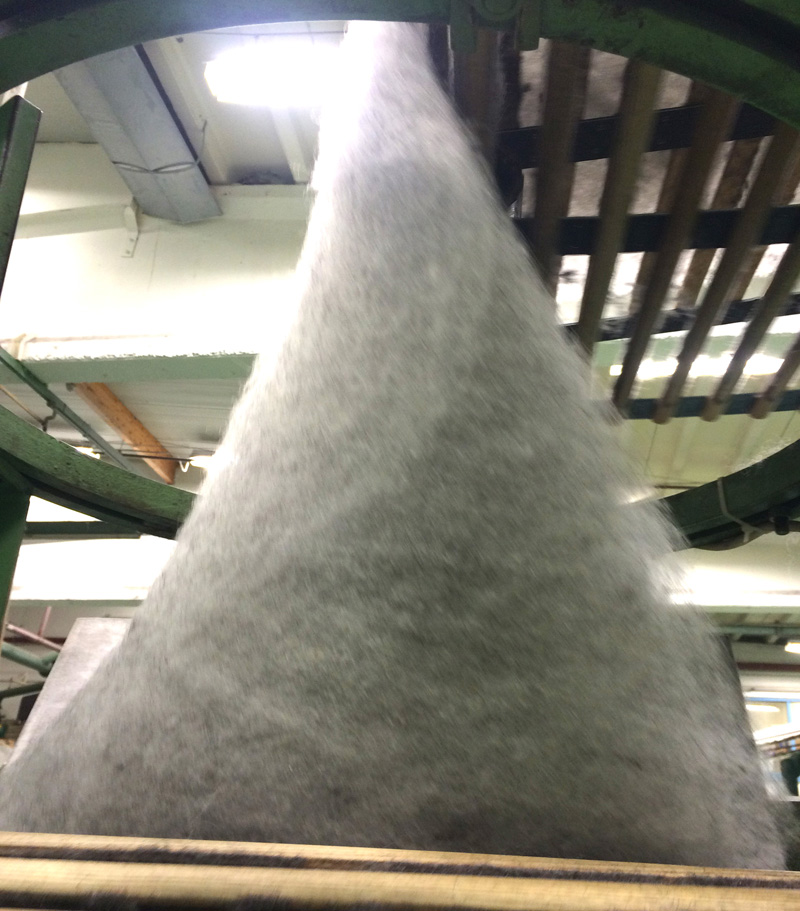 to finished yarn. Istex is celebrating a 25th anniversary this year and each month will release a free pattern, like this one which Hulda was still proofing.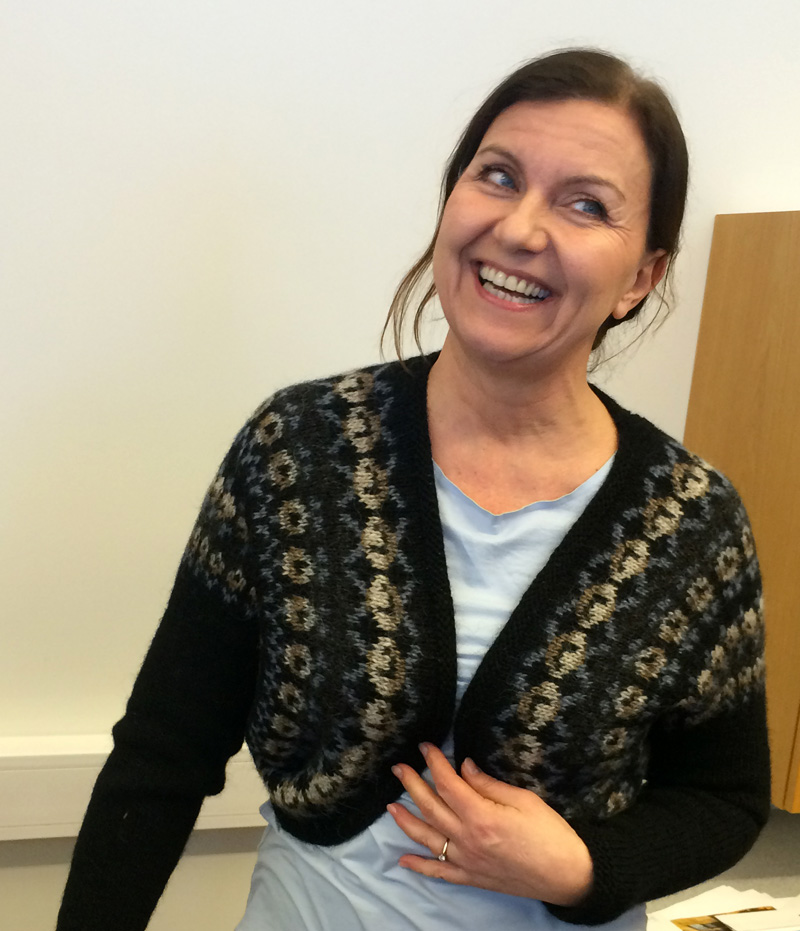 From there we traveled to Alafoss, a legendary shop with everything from handknits to yarn to gifts.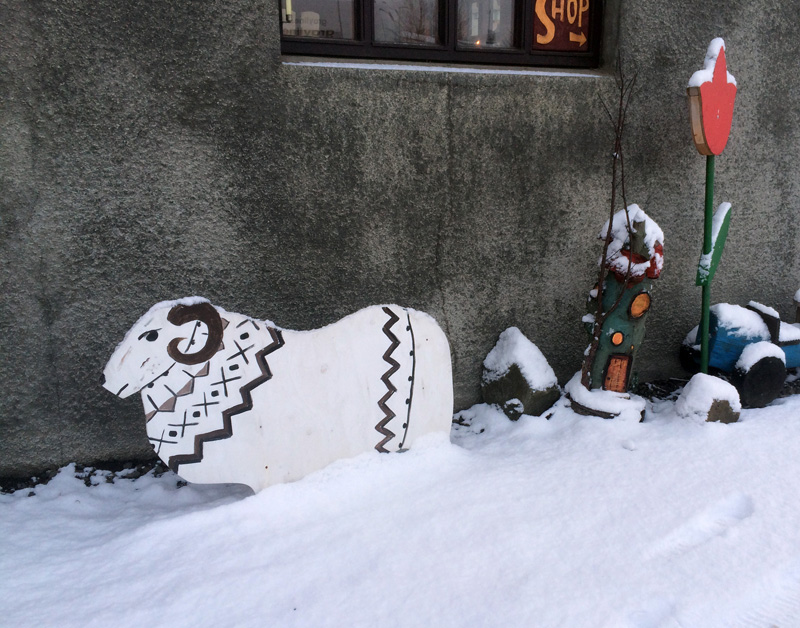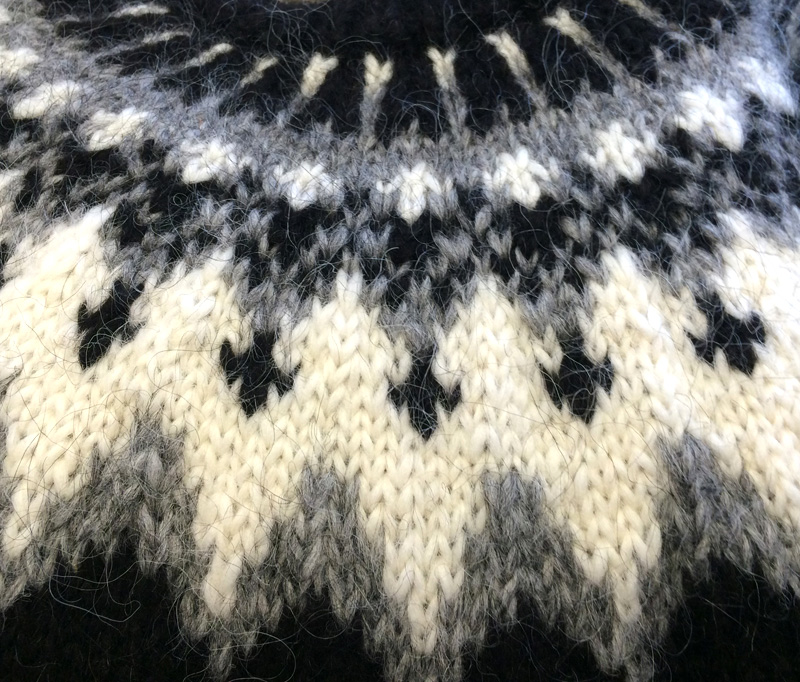 And made a final stop at Litla Prjónabúðin, a small and utterly entrancing shop where we fell in love with a fox,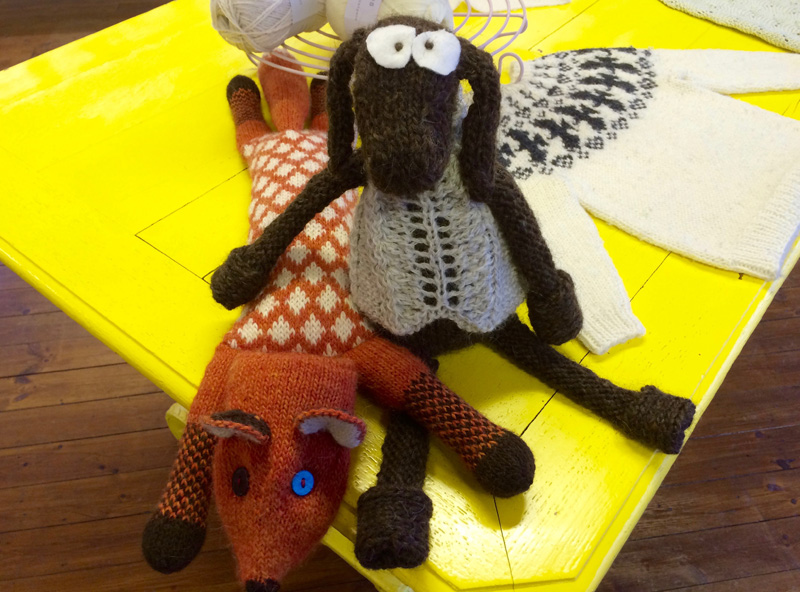 photo and arrangement by Jim Petkiewicz
And every nook and cranny in this fairyland of a shop.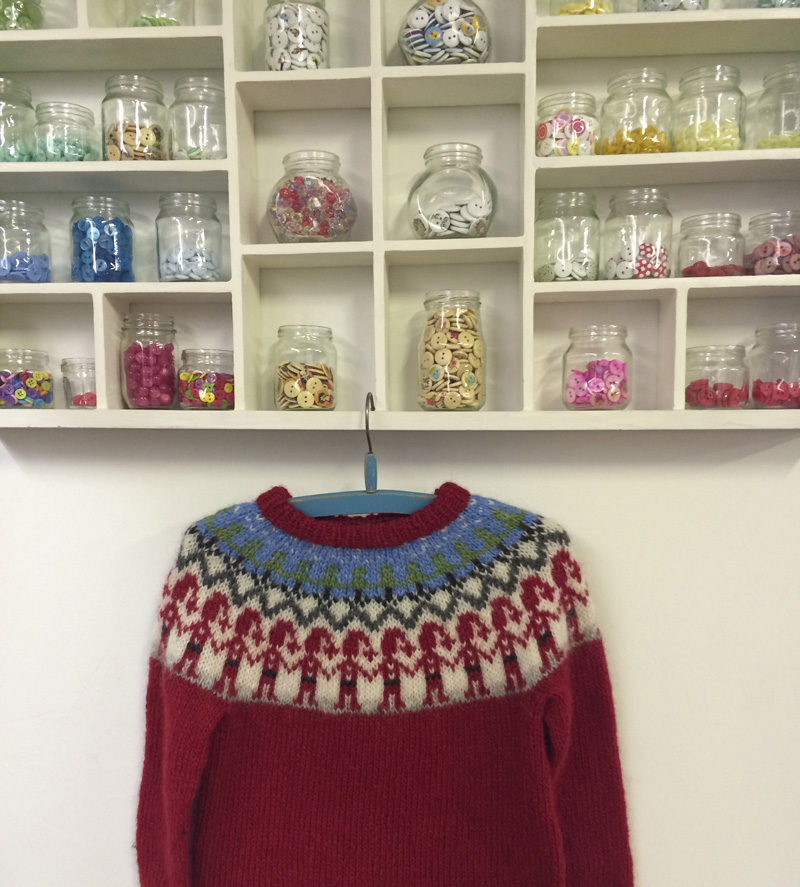 One evening we drove out to Handprjon, a spacious, and beautiful shop in Hafnarfjordur, to commingle, sup, and knit with Hulda Soffia's knitting group.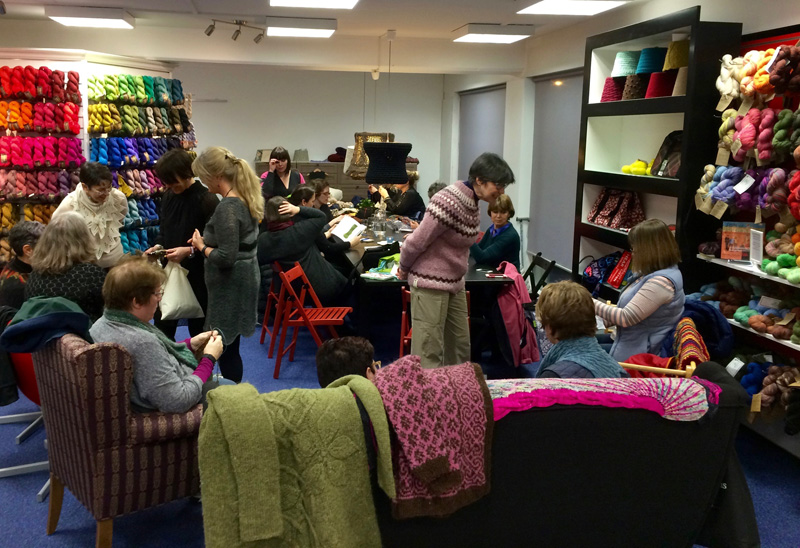 photo by Jim Petkiewicz
Owner Drífa Alfreðsdóttir has created a spacious and welcoming home for knitters, with a fantastic selection of really interesting yarns, some under her own label and others from other Nordic countries and Scotland.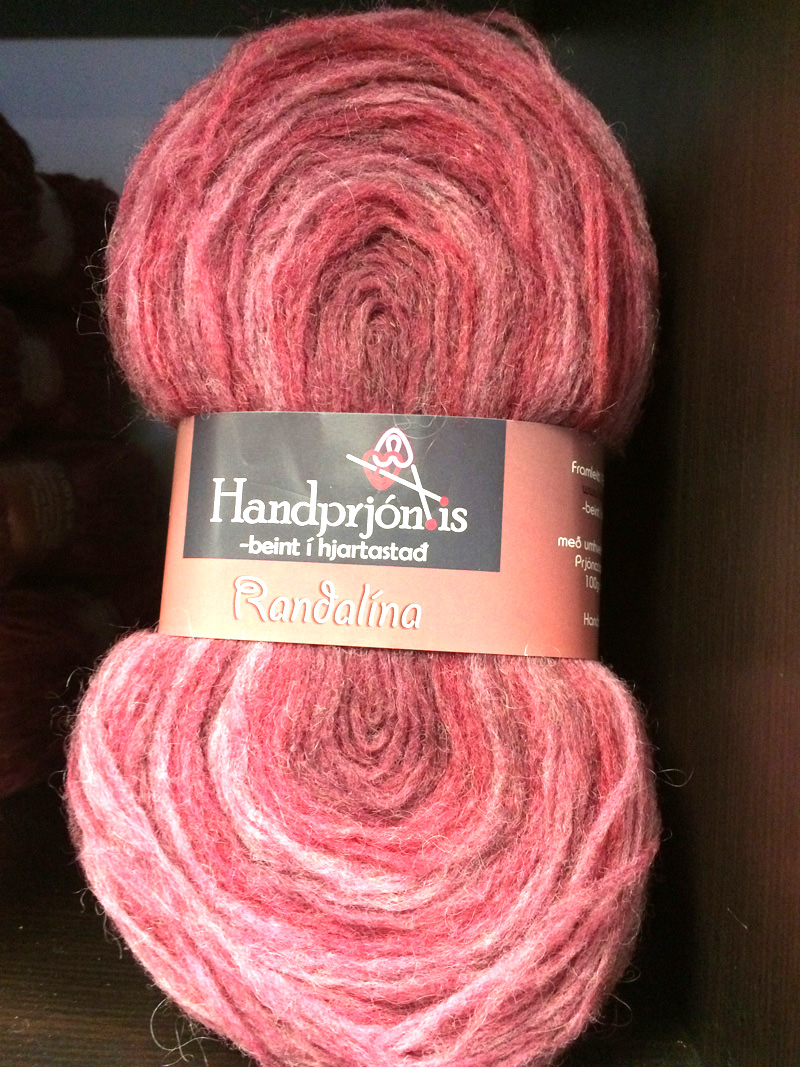 She even offers a pattern for a hat or mittens with a silhouette of Iceland as the centerpiece! Lucky me, she sent me home with a kit. By the time we return in January of 2017, I'll know the island's shape well.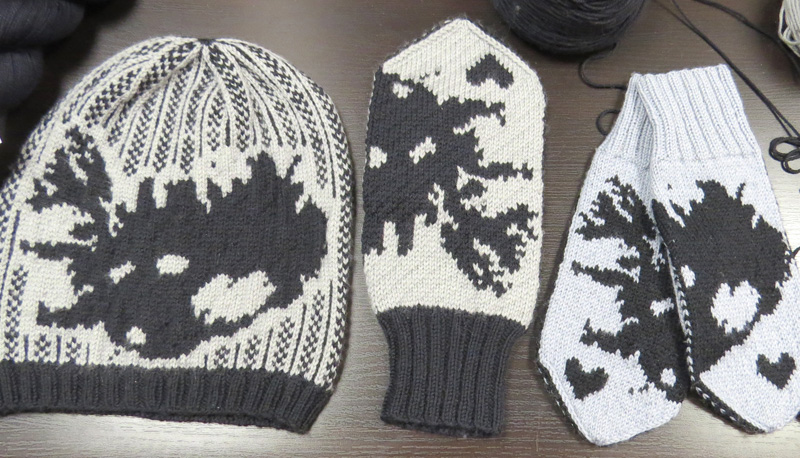 Drifa's shop is a knitter's labor of love: her wallpaper is ribbing, and she made swift-chandeliers. And above all, she and her talented assistants are devoted to service and hospitality.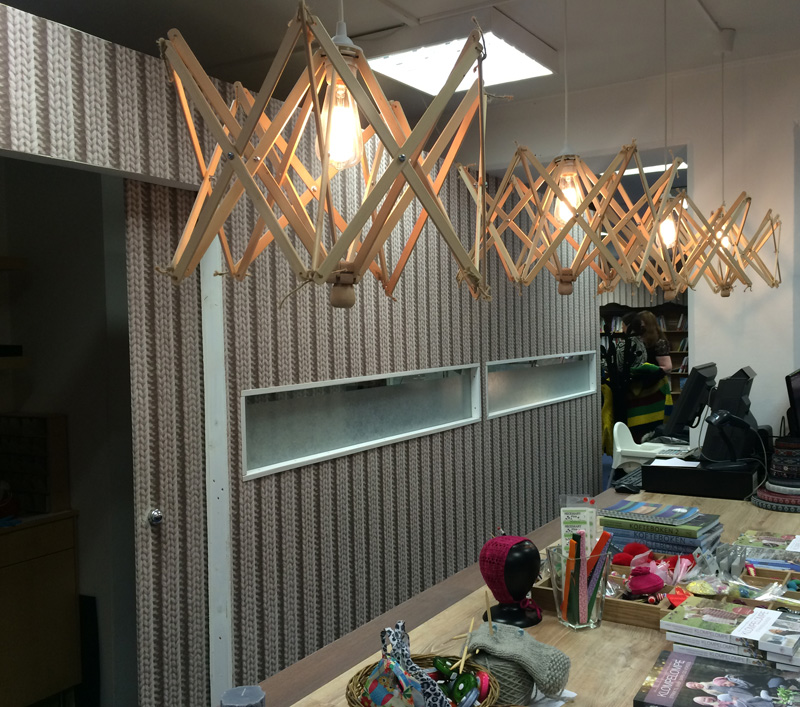 Like Icelandic sweaters, Icelandic children are sturdy and beautiful.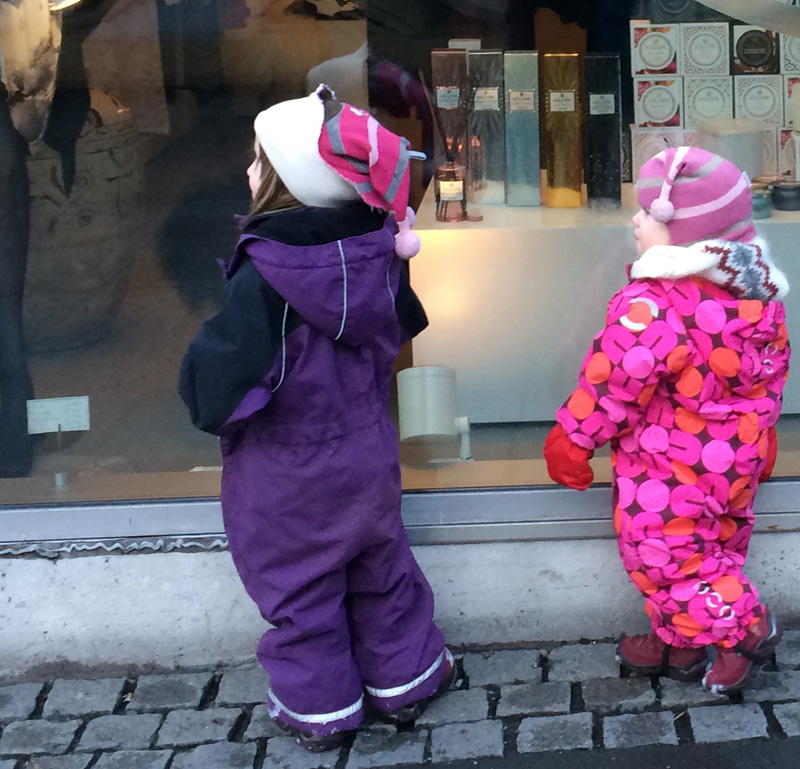 Babies thrive on long outdoor naps (well bundled, of course) year-round, like the little one tucked inside this carriage while its parents enjoy being with friends inside the restaurant.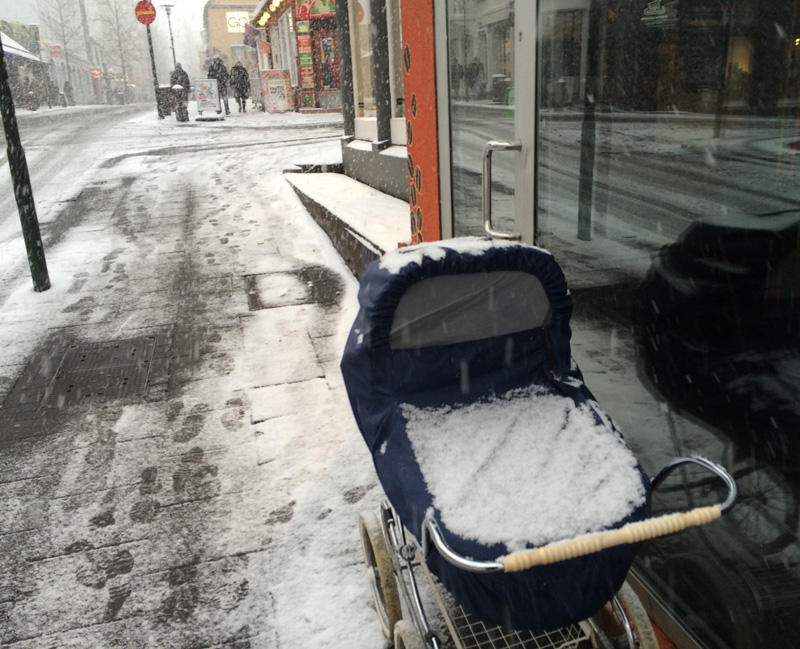 photo by Jim Petkiewicz
Children are safe walking to and from school or heading out to play on a neighborhood tire swing in the snow.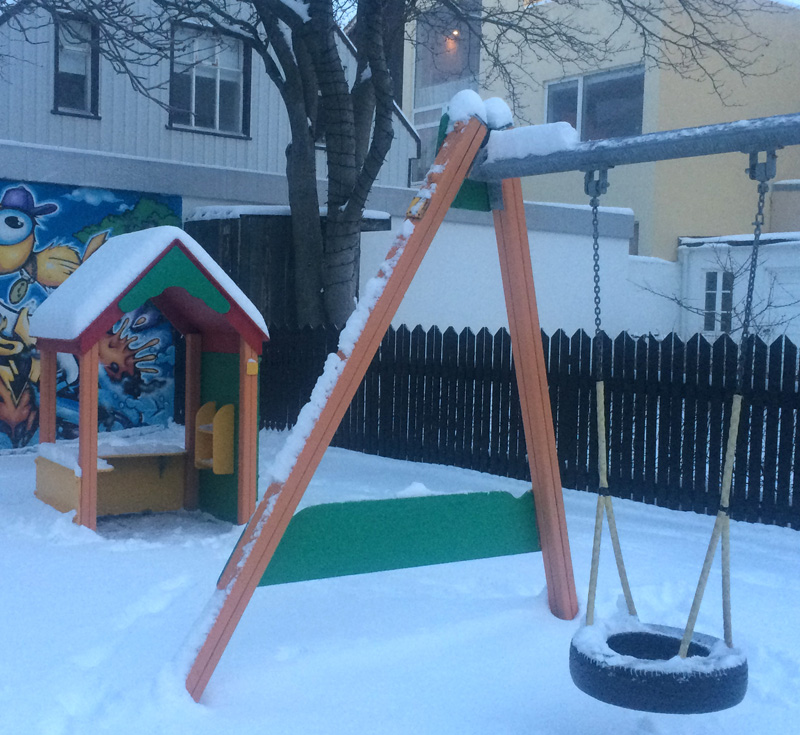 We made the most of our final morning by heading an hour out of town to Þingborg, a rural collective of farmers and artisans who mill their own icelandic fleeces with great care and use plant-based dyes. We arrived as the sun was just clearing the horizon,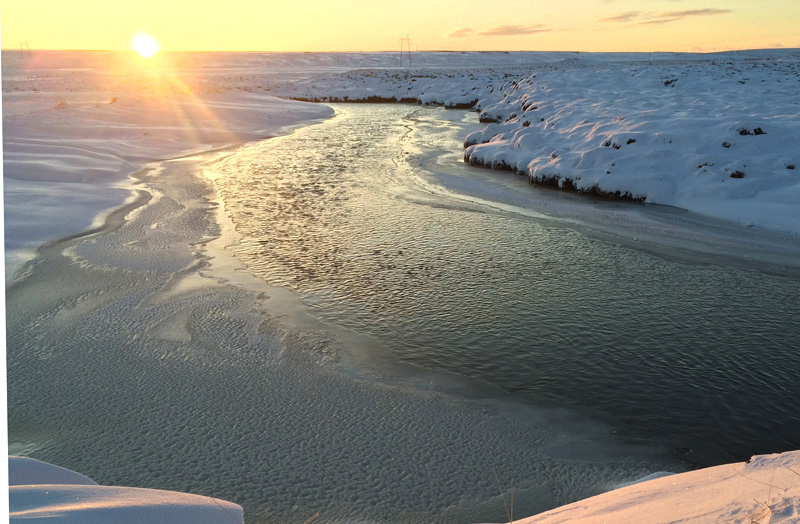 and the horses across the road were waiting for breakfast.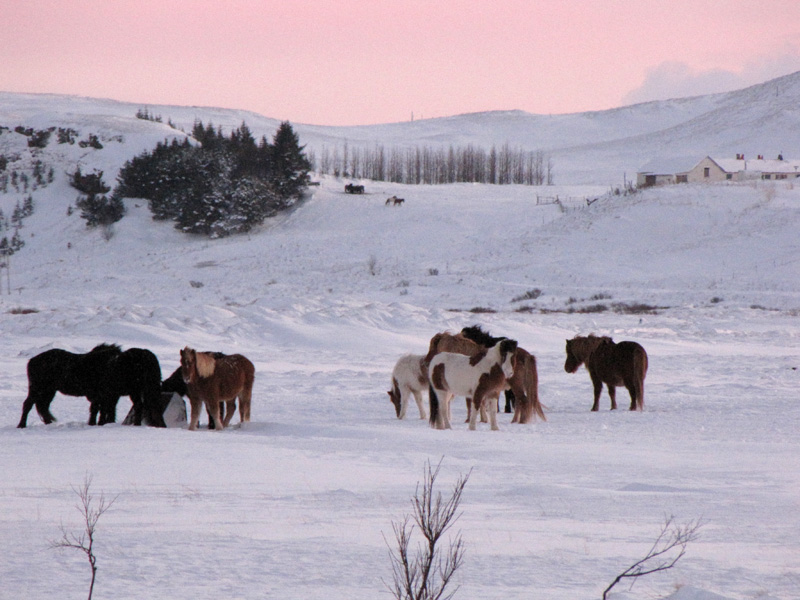 photo by Jim Petkiewicz
Inside, with limited time because most of us had flights to catch, we chose treasures, like batting carefully rolled in paper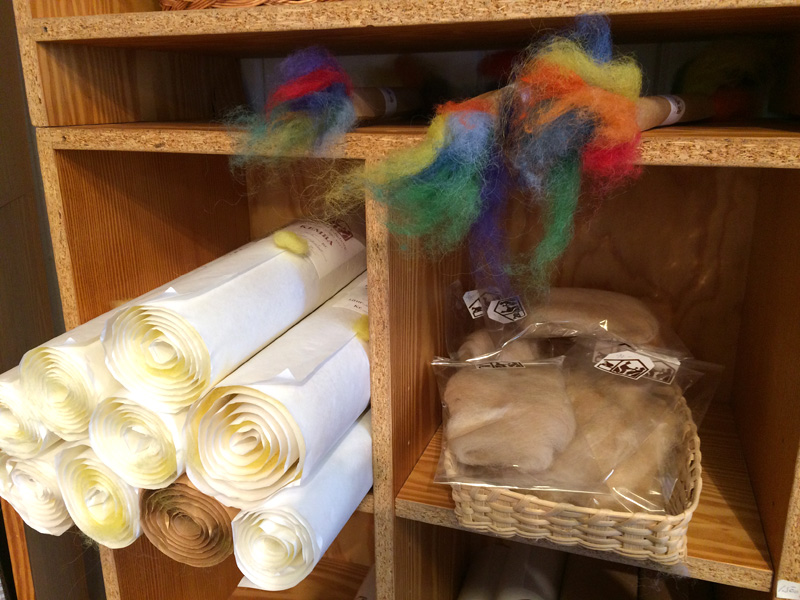 elf musicians,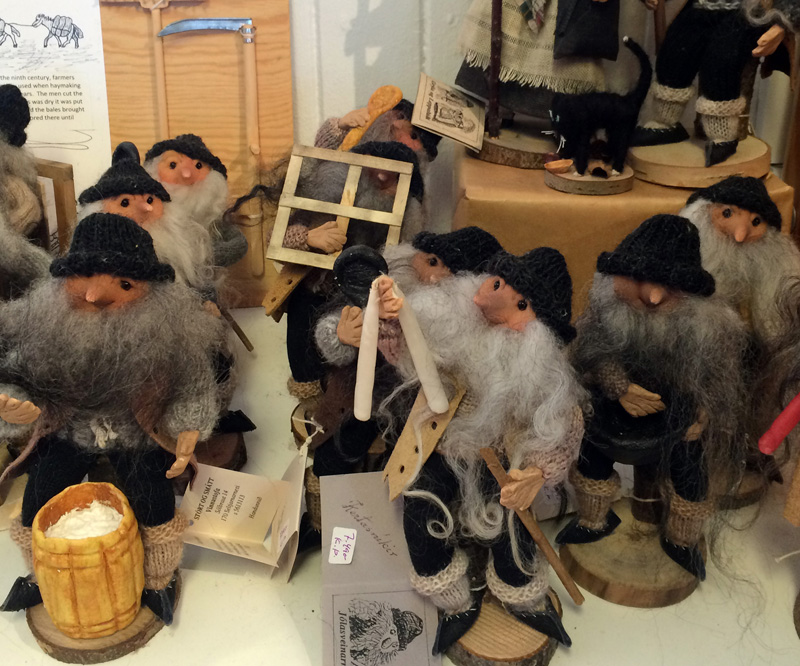 And buttons. I bought a year's supply of Icelandic wool to play with, until we return for more in 2017.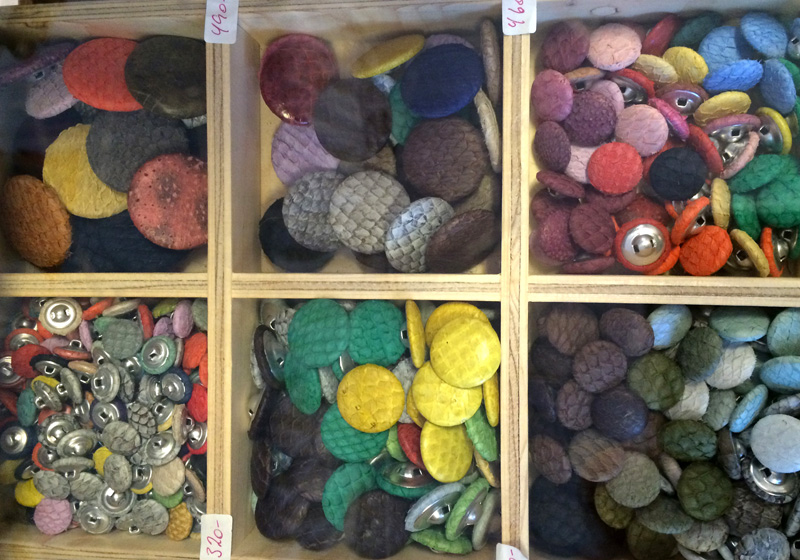 Just outside the door we all paused to imprint this scene in our hearts forever…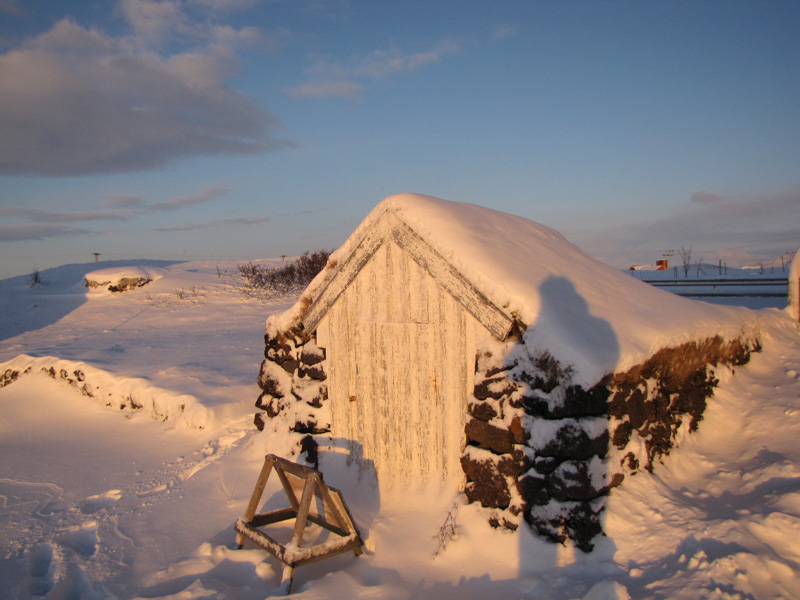 photo (and self-portrait) by Jim Petkiewicz
Back in Reykjavik, a final walk along the harbor,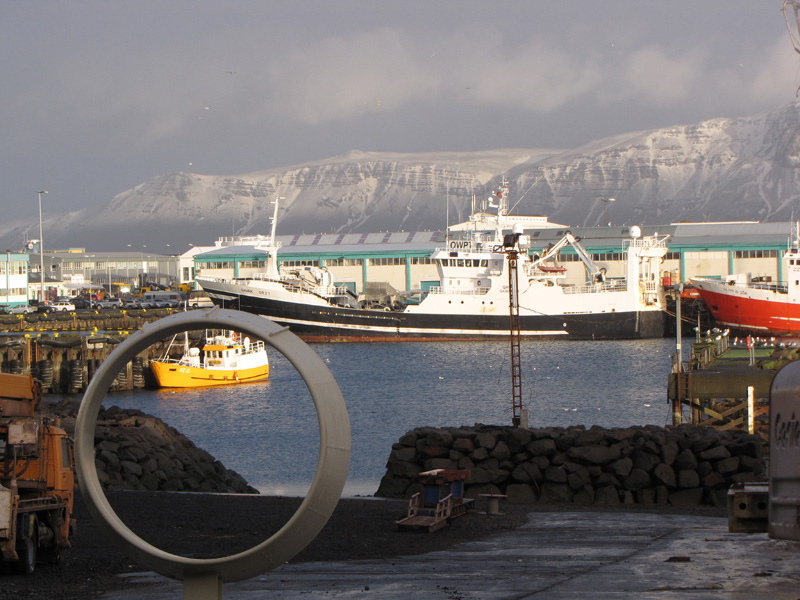 photo by Jim Petkiewicz
And climbing back up the hill, wistful smiles at the now familiar colorful face of storefronts,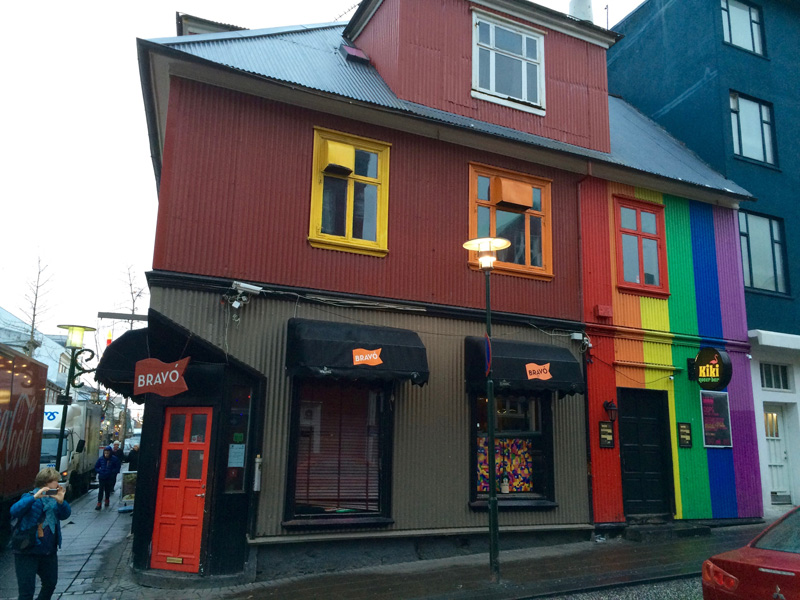 photo by Jim Petkiewicz
and one last view of Hallgrimskirkja.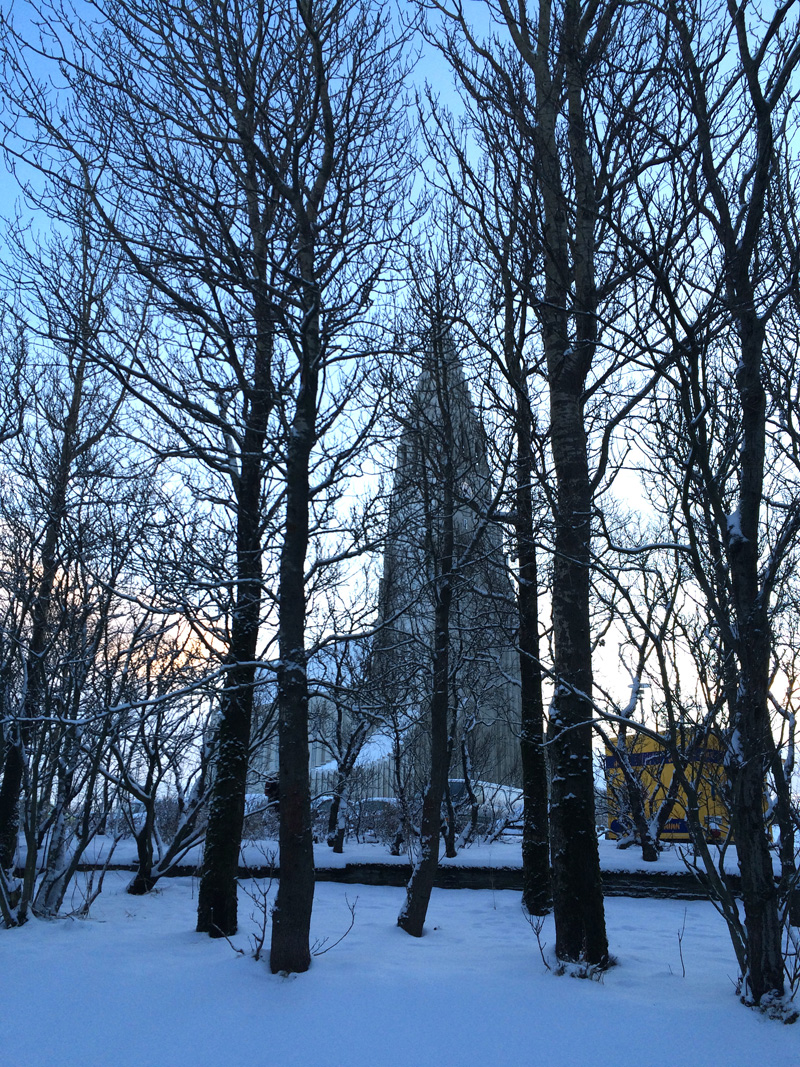 Thank you, Valdi, (buttoning up the sweater, we brought back for him) how right you were. Without your bright spirit and promise that winter in Iceland can be glorious, we and our travelers might never have had this magnificent experience.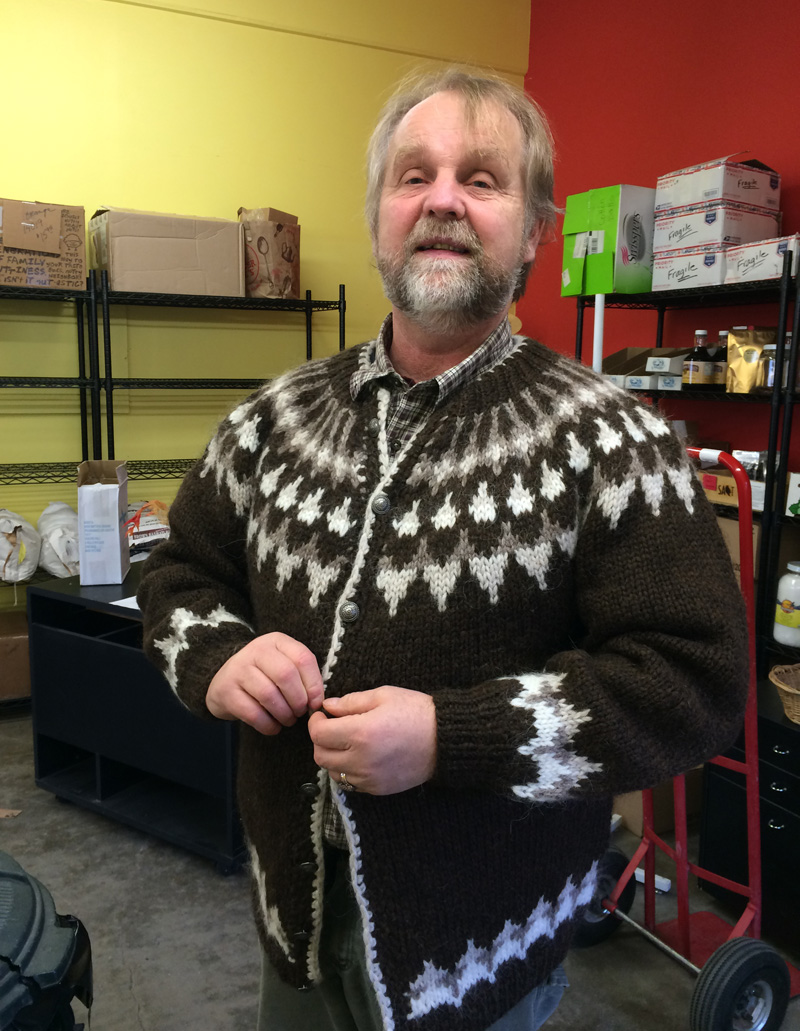 Note: We won't have our 2017 Iceland trip PDF posted for several more months, but if you wish to be on the interest list, email me (see contact in side menu) with "Iceland" in the subject line.
Posted in Archive, The Dearest Freshness Deep Down Things
Posted July 20, 2011
I've been having a lovely time preparing for my Sock Summit classes in Portland next week. If you have any hankering whatsoever to experience the most concentrated gathering of knitting innovation, intelligence, creativity, generosity, kindness, sharing, and sheer joy you may ever find on the planet, and that doesn't scare you, I hope you will come be among us on July 28-31 at the Portland Convention Center. Get some rest before you arrive.
I'll be teaching three full-day sessions of "The Knitting Sleuth," and one full day of "Personal Footprints for Insouciant Sock Knitters," based on my book. "The Knitting Sleuth" is something else, in fact every time I teach it, it is something else. Here is a glimpse: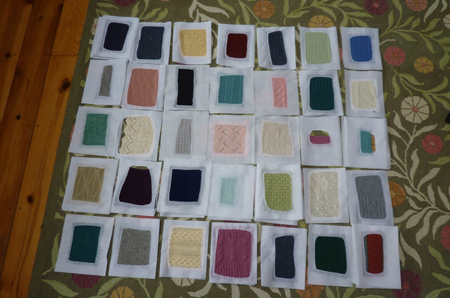 This pretty thing is not a quilt. It is a sampling of the thrift store sweaters I have been spending years collecting, cutting up, and sewing into frames (made of interfacing). In order to qualify for a frame, a sweater has to have a stitch texture I have never encountered anywhere, and be of enough interest to warrant my students devoting their time to reverse engineering it and hopefully getting lost along the way again and again, thus discovering related yet unique textures that also have never been seen before. Then we extract algorithms and list variables and play and swatch and lo and behold, new knitting textures appear faster than baby rabbits in a well-fed warren. And if this sounds like math, the thing that you think you don't like about math isn't here at all; this is math, yet requires none at all. Be not afraid, at all.
I call this Forensic Knitting, and the framed swatches are but one of several dozen pathways I have developed to carry knitters toward fruitful, expanded consciousness. It is more fun than, as one of my students said, "anything else you can do with your clothes on."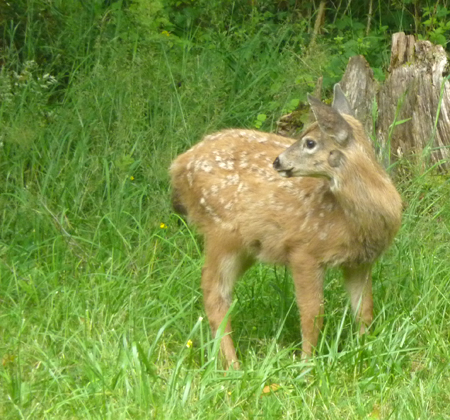 Here is one of the three fawns that spend so much time nibbling dandelions in my yard that I have to recharge my camera battery daily to keep up with their cuteness. And here is the same fawn moments later – she seems to have heard something and she …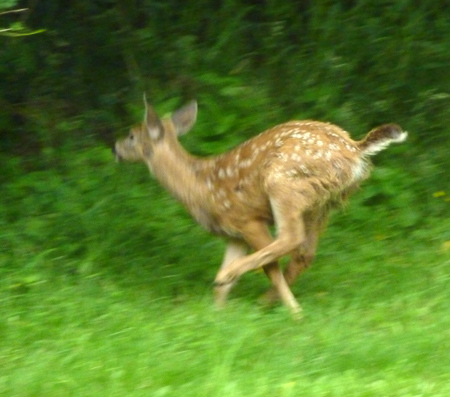 took off as fast as her little legs would carry her! I apologize for the blurry photo, but it's a miracle I caught the little dear (ha ha) at all. As I write, she is back, munching on more dandelions, flicking her tail, and occasionally winning a stare-down with me through the window.
I've finished  preparing single pattern versions of the first three designs in my eBook, Cat's Sweet Tomato Heel Socks, and have posted them on Ravelry along with the eBook, which if I were you I would buy instead, since for $20 you will end up with the equivalent of $54 worth of patterns as well as lots of in-depth tips and tricks and lessons that will not appear in any one pattern. If you click on "Patterns" in the left menu, then "socks," you will be taken to the three that I have posted.
I get most of my Forensic sweaters at our local thrift store, and yesterday I also found a half-dozen antique steel-cable circular knitting needles. I've owned one for years and thought I might never find any more; these are likely from the 1920's or earlier.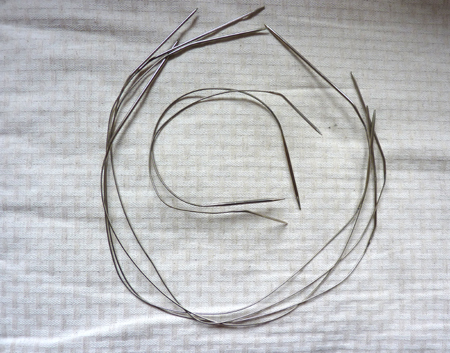 Curiously, there was a pair of  2.25 mm and a pair of 3 mm needles, both about 30 inches long, as if somewhere on this island a knitter may have been working in the round on 2 circs decades before I was ever born. Except that the steel cables are so unyielding that this could not have worked out well at intersections.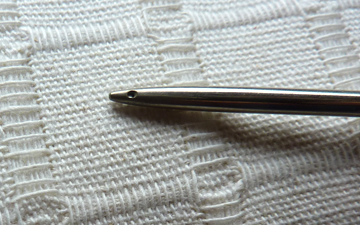 The other curious thing is that the tips of the long needles (not the 16-inch needle) also have a very small diameter hole drilled through the tip, suitable for sewing thread – a lifeline perhaps? Keep in mind this is a 3 mm needle, so the hole is very small indeed. Ah, the stories these needles could tell.
The only reason I came up with the 2-circ method and Sarah Hauschka with the 1-circ method (Magic Loop) is because Ingrid Skacel brought Addi Turbo needles, with their pliant cables, smooth joins  and fine tips from Germany to this country in the mid-80s, spending decades investing in the knitting community and trusting that we would appreciate fine tools. It didn't happen overnight, but she and her husband Hans persisted and in my opinion, changed the knitting world. We wouldn't be where we are were it not for the fine tools we have to work with. Since then, other needle makers have built upon the pioneering work of Addi Turbo, but I still think they are the best needles made.
I hope to see some of you in Portland! You'll find me, when I am not teaching, looking blissful at Ruby Jewel Ice Cream. I dare you to have some ice cream, then walk a few doors down and through the door of At the Meadow without spending money on something you never even knew existed or that you wanted. Beware. It happened to me. I won't even tell you what it is. You will have choices.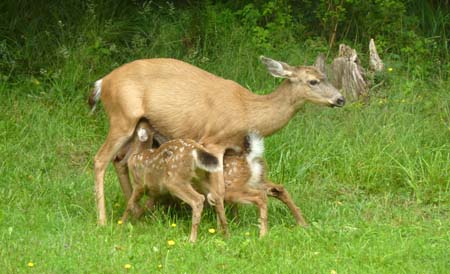 Okay, this is in real time. Mama deer just showed up and was instantly attacked by her twins who to my astonishment are still nursing, with VIGOR. Wish you could have seen this: the twins are actually lifting mom up and down with their eagerness. I am grateful every day for living here.
Posted in Archive, The Dearest Freshness Deep Down Things | 1 Response