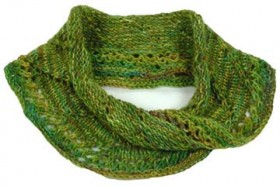 Please watch my video on the Moebius to learn how to get started with this kind of knitting which is unlike anything else you may have ever done. Once you learn the cast-on and what to watch for, you'll find it easier than knitting a garter stitch scarf. I can do the Moebius Cast-On behind my back, not because I am clever, but because it is that simple. Many of my students can also, shortly after learning it.
Don't believe the myth that twisting your join creates a Moebius. A twisted cast-on has a full 360 degrees of twist, while a Moebius has half that. And it matters, if you love grace and magic. Like any loop, a Moebius has one opening, but it has only one surface and only one edge (unlike any other loop). And this makes all the difference. If I had one word for the true Moebius, it would be grace.
I designed this simple yet elegant Moebius cowl for my segment on the Knitty Gritty TV show (DIY network), in order to teach 3 basic things: the way to start any Moebius, that every design element is mirrored from the "equator" outward, and that one gets what I call "bipolar stockinette" if there is no purling at all, and that the results are oh so beautiful, graceful, and simple to manage. Plan to use markers every 8 stitches all the way around until you can see the lace pattern and read your knitting; then you can abandon them if you like. Here's the Moebius Cowl Handout.