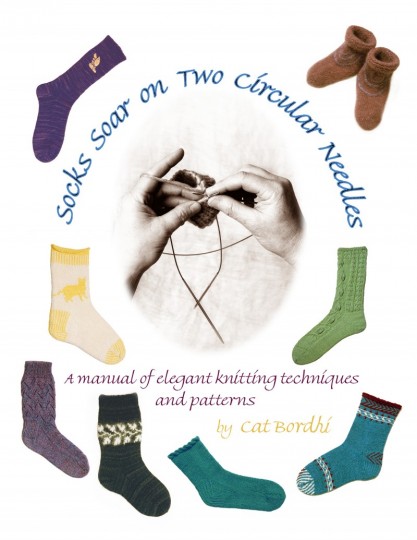 My very first book is now available as a PDF. To purchase a copy for $16, click here. You can keep this digital book on any and all devices you own, and print out pages as you wish.
The digital version is richer than the original (which is now out of print). It includes video links, yarn substitutions, interior color photos, a new foreword, and a fresh layout.
Since 2001, Socks Soar has sold over 100,000 copies and expanded the happiness of sock knitting. A few years later, Sara Hauschka's Magic Loop method of using just 1 long circular needle opened yet another option.
By the way, socks really do soar on 2 circular needles!
The table of contents:
Introduction to 2013 Digital Version
My other sock books
The Original Introduction
Knitting with two circulars: getting started
Translating a traditional pattern to the two circular method
Patterns
Simple Sock in 3 Sizes (easy)
Indoor Felted Boots (easy)
Fleetfoot (easy)
Gardener's Sock (easy)
Night-Blooming Jasmine (intermediate)
Columbine Peak (intermediate)
Two Alert Cats (intermediate)
Cable-Top: with the Turned Toe© (intermediate)
Alpine Meadow (intermediate)
Bavarian Twisted Stitch (intermediate)
Leaf and Tendril: with the Turned Toe© (advanced)
Appendix
Special Tips and Techniques: the How, Why, and Wherefore
Sources for Yarns, Needles, and Other Goodies
My Favorite Knitting Technique References
Treasured Traditional Sock Collections
About the author
Abbreviations and Useful Explanations
Here are videos I made to supplement the book:
Knitting on 2 circular needles, part 1
Knitting on 2 circular needles, part 2