This friendly PDF eBook is a lavish collection of 17 designs and clearly presented techniques.  You can print out just the pages you need for a project, or have the entire book printed and bound at FedEx or similar places.
To purchase the eBook for $20, click HERE.
My free VIDEO tutorial offers a clear picture of how the Sweet Tomato Heel works.
The eBook includes 15 unique video links so that I can "sit beside you" and help.
Reader comments:
"What a simple and elegant solution to such common problems. It gives me hope in general."
" The Sweet Tomato Heel is a thrilling release of the old ways of strict pattern following! It has helped me to truly understand sock design, craftsmanship, and fitting.
"These heels are so easy to knit and such a natural shape and give me the confidence to knit without a pattern and just play."
The ebook is laid out in the style of my five print books, with my usual attention to detail and clarity to insure your knitting experience is smooth and sweet. You'll find lots of illustrations, charts, and line-by-line instructions, as well as the live video links.

The socks may be knit top-down or toe-up and can be easily fit to any foot.
If you like to work 2 socks at the same time, on 1 long circ (green) or on 2 circs (blue), you'll find start-to-finish illustrated instructions for each method.
This heel emerged two winters ago after several days of sitting beside the wood stove with my mother while trying to fiddle my way towards a new short-row heel. I'd given up several times when almost unconsciously, I did a small thing—and just like that, the clean heel of my dreams existed. This small thing closes gaps without holes, wraps, or acrobatics. The heel is rhythmic to work and nearly perfectly smooth, like a tomato. Best of all, once the process is understood, most knitters need no written instructions.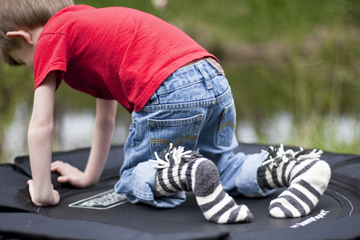 The first sock in the book is one I dearly love, my Zebra Socks, which come in sizes for babies through large men. Above you see my little grandson Charlie wearing his, and below you see me in a tree wearing mine. I am pretending to be a Madagascar Lemur.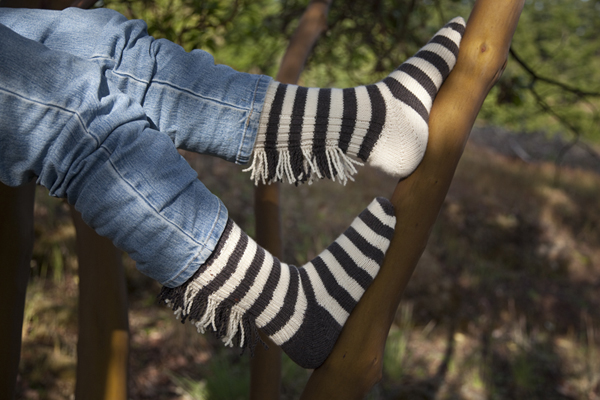 Here is the elegant Minnesota Moonlight, which will entrance you both in the knitting and the wearing. Alas, I do not offer these for babies or men, but they do come in women's small, medium and large.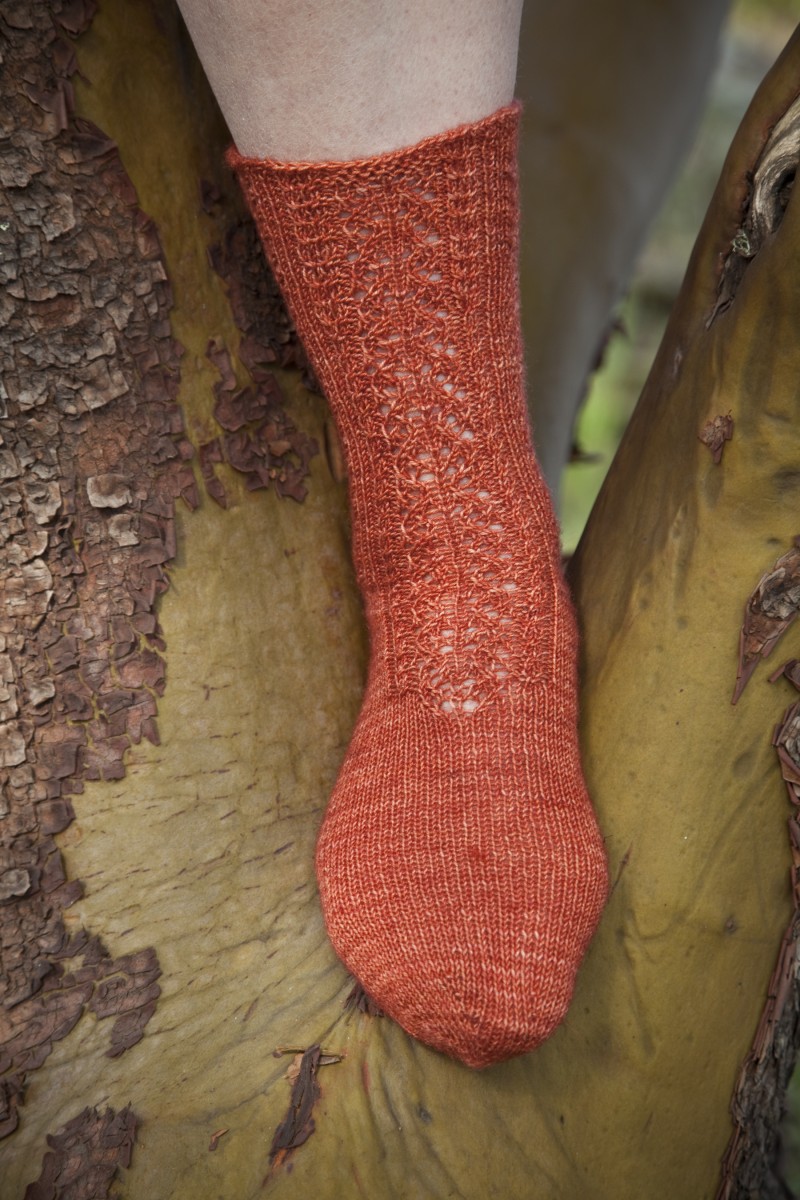 "Feather and Foliage," shown below, features a Padded Sweet Tomato Heel, sister to the original smooth stockinette Sweet Tomato Heel. You'll find a video tutorial on this new heel here.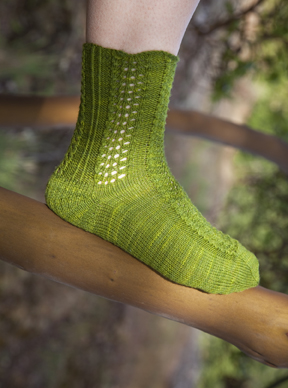 Below is Danny's Bluebird Socks— the cover sock that the bluebird is flying off with—shown here in a medium woman's size (they come in sizes from baby to adult).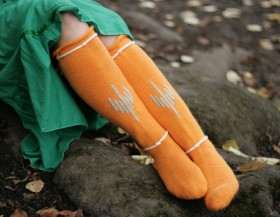 Here are "Hither & Yon," shown with beads. This very easy lace texture looks charming without beads, as you wish.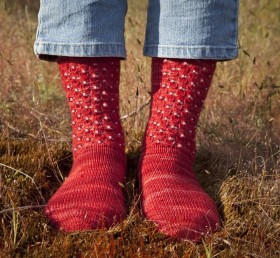 The Victorian Birdcage socks are one of my favorites…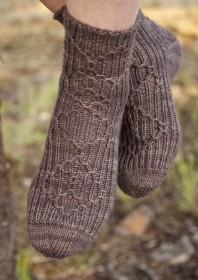 My Coriolis socks from my 2007 book, New Pathways for Socks Knitters, was reincarnated as a Sweet Coriolis with two choices for the leg (a diagonal texture pattern all the way or just at the top: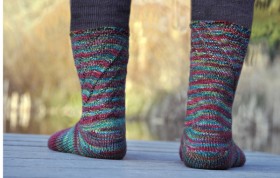 For a mellow yet thrilling knitting experience, try one of the three Anomiya designs, which use Mellow Cables – and you may soon find that you will use Mellow Cables all over your knitting!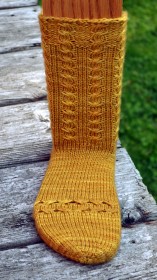 My grandson has a superhero obsession and is always asking me to knit him superhero garb. Here is a pair of felted tall superhero boots…sized to fit a child, youth, woman, or man, and perhaps to enable them to leap high buildings.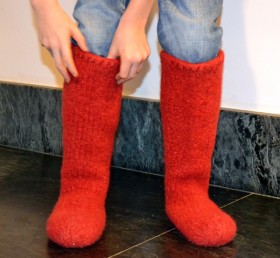 And there are many more designs in the book… I hope you will join me and thousands of other knitters who have fallen in love with the Sweet Tomato Heel method.
You can also browse my Cat's Sweet Tomato Heel Socks group on Ravelry to see hundreds of examples of STH socks and innovative ideas from knitters like you.
To purchase the eBook, click here. You will have the choice of paying by Paypal or by credit card. And thank you so much for venturing on this first eBook journey with me.
---
Pin it for later: