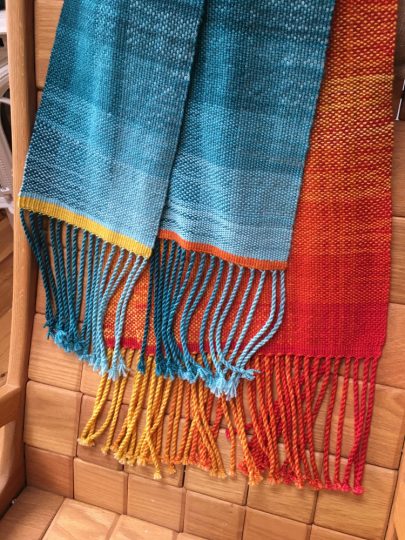 We have one spot left in this retreat.
For full information about our retreat, including how to register: 2017 Weaving for Knitters in San Jose PDF
In response to a chorus of requests for a weaving retreat in San Jose, like those Cat Bordhi holds on San Juan Island in Washington, Cat's brother Jim Petkiewicz (known as Pecos) offered to host the retreat at his home in the Willow Glen neighborhood of San Jose. The income from this retreat will go to Community Links International, a non-profit he and his wife Mags founded many years ago. During our retreat, Pecos will share some stories of the work they do.
Weaving, like knitting, floods one with that oh so familiar balm of well-being and recalibration. And weaving and knitting merge so naturally and easily that it is a mystery why the two skills are not paired more frequently. A friendly 15″ rigid heddle loom on a stand will be yours to use the entire retreat (we'll have several kinds, so that if you choose to buy a loom later you'll know your preferences), and by lunchtime of the first day you will already be weaving. Day by day, Cat will share a treasure chest of simple tricks that produce intricate variations, as well as techniques for merging woven and knitted fabric. She'll also have weaving books, tools, and gadgets for you to explore.