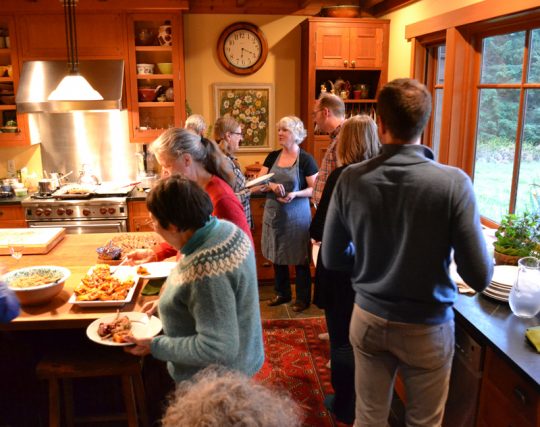 We hope to offer this style of Island Knitting Retreat again in 2018, based on the great success of our first one in 2016, when we shared intimate experiences on our home island and a neighboring island or two.
We'll gather beside a lake in an evergreen forest on beautiful San Juan Island, Washington, for a week of indoor and outdoor pleasures, including lots of knitting, as we cultivate and nourish that which arises within our group with the intention that our generous spirit may spread beyond. This retreat is smaller than Cat's other island knitting retreats to make it possible to take excursions to share our deep relationships in the archipelago. As leaders, we take our cues and choreograph our days by responding to the freshest temptations and resources of the island and natural flow of our group. Last year Justin, one of our participants, likened the instinctive movement of the group to a flock of birds wheeling through the sky.
During our inaugural retreat lat year we traveled via the interisland ferry to Our Lady of the Rock Monastery on Shaw Island, to be with this lively community of nuns and farm interns, who raise Cotswold sheep, Scottish Highland cattle, Jersey dairy cows, pigs, chickens, turkeys, alpacas, and llamas. We cuddled new lambs, practiced sorting fleeces under Mother Hildegard's tuteledge, breathed deeply in the serene chapel, and went home with the Monastery's yarn, cheeses, herbs, tea, roving, and a few fleeces. Another day we took the ferry to Lopez Island to visit Island Fibers, the knitting-weaving-spinning-fiber studio owned by our friends Deb and Maxine, and to see the nearby flock of Friesen-Coopsworth-Romney sheep who are their source of wool. In 2017 we will plan our excursions according to what is most promising, including at least one voyage to another island. There are many possibilities—from San Juan Island's unique salt, honey, and ower farm, to mountaintop picnics, organic farms, several distilleries, an outdoor sculpture park, lighthouses, and an alpaca farm. Some of these you can do on your own during free afternoons; others we will visit as a group.
We had to reschedule to 2018, but did make up a PDF for 2017 and are keeping it posted here jsut so you can learn more—IKRHC 2017. If what you read makes your heart beat a little or a lot faster, we'd love to have you choose this retreat and join us in 2018 (dates TBA).