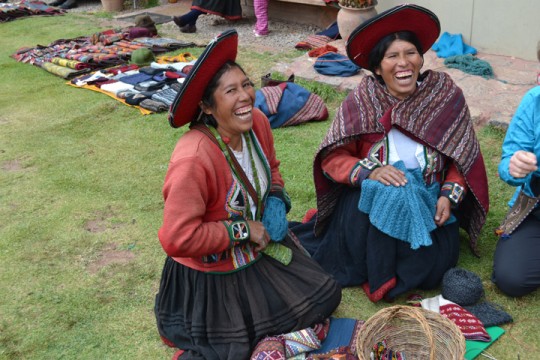 This adventure is sold out (watch for daily posts about the trip on my Cat Bordhi FB page).
Ever since we took our first group to Peru in 2013, to the second Tinkuy, we've been hoping for another Tinkuy to share with people who care about sustaining textile traditions and the communities and cultures they have been integral to for centuries. It is impossible to convey the splendor of this mostly indigenous convergence of weavers, knitters, and spinners that opens like a flower that blossoms only a few times in a lifetime. Imagine a time machine that delivers you to a space where ancient cultures flourish together as if their distant lands were joined, where you can take Peruvian weaving, spinning, and knitting classes, share sacred ceremonies, sway to music and dance, and mingle with kindred individuals who practice the very same textile techniques as their ancestors. That timeless time machine is the Tinkuy Gathering. To learn more, visit: http://Tinkuy2017.textilescusco.org
We'll begin our sojourn in Arequipa, a beautiful colonial city at the foot of soaring mountains, where we'll visit Mundo Alpaca, have a professional Peruvian cooking class, and see historical sights. Then we'll fly to Cusco for the Tinkuy Gathering, and afterwards travel to Ollantaytambo and Macchu Pichu. Finally, back to Cusco for several more days of exploration and discovery, before departure. As of early january, the trip is more than half full already. If you read through this Peru 2017 PDF and feel that we are a good fit for one another, then we'd love to have you join us. Email Cat to see if there is still space and we'll help you get registered and answer any questions you may have. This will be our eighth group to Peru and we are so very grateful to be able to share this magnificent culture and people with others who value textiles and people and all that is good in life.