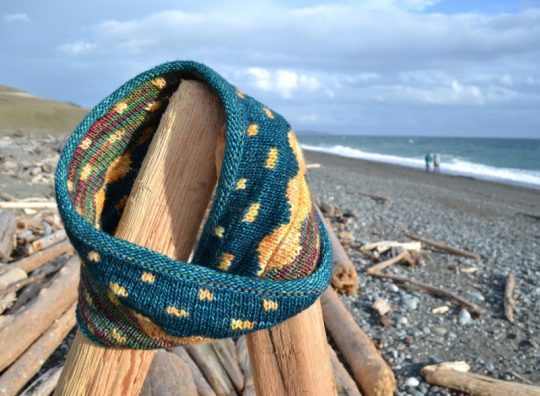 All 2017 retreats are sold out. The 2018 retreats are now open for registration.  
I particularly love doing these retreats and sharing the beauty of the island where I am so fortunate to live. San Juan Island is closer to British Columbia's Vancouver Island than it is to mainland USA, and those of us who live here consider it paradise. These three retreats will take place in a beautiful setting, (see for yourself: http://www.lakedale.com) on a lake in a forest with eagles, ravens, occasional foxes, clean fresh air, wonderful food, and best of all the company of knitters over a relaxed and lovely 5 nights and 4 days. The lodge itself has 10 luxurious rooms (with fireplaces, jacuzzi tubs, free wifi) and there are also 6 cozy cabins which may be shared with a friend. We are in the off-season, so I have arranged for very good rates. Afternoons are free for exploring the island – there are alpaca farms, hiking trails, beaches, a lovely small town, an outdoor sculpture museum, a yarn shop, whales, harbor seals, and more. There is bountiful time to learn lots of knitting techniques, get plenty of one-on-one instruction, make new friends, relax, and make yourself at home on a beautiful island. What I teach shifts from year to year, but I always welcome any projects you want to explore or have help with. I welcome anyone who loves to knit, even if you knit dishcloths year in and year out, you are a knitter and we understand one another and share a kindred well of goodness. Here is full information 2017-ikr-pdf about the retreats, including the registration form and how to reserve a spot. I usually have 3 spring knitting retreats, but because of the great enthusiasm for my new Weaving for Knitters retreats, I decided to give the first spring dates to the weaving for 2017.
Here is a podcast that includes Jan Hamby's interview with me during an island retreat.  And here is an article written by a retreat knitter about her experience.